Simonsen focused on run-in
Sheffield United keeper Steve Simonsen is fully focused on completing the job in hand and sealing automatic promotion out of League One.
By Chris Galea
Last Updated: 06/04/12 10:36pm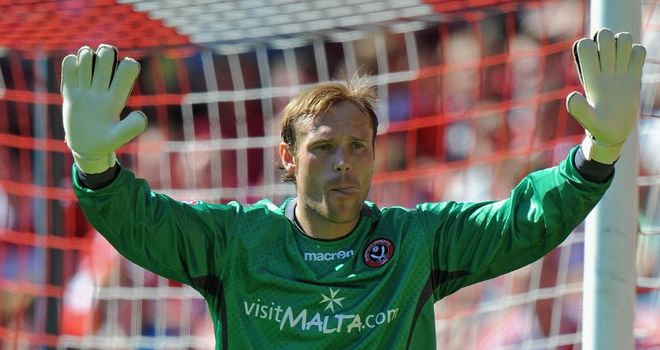 Sheffield United's experienced keeper Steve Simonsen is fully focused on completing the job in hand and sealing automatic promotion out of League One.
The Blades have bounced back well from tasting relegation last season and are just six games away from regaining Championship status.
They currently hold a slender two-point advantage over their fierce local rivals Sheffield Wednesday in the race for a top-two finish.
Simonsen, who celebrated his 33rd birthday earlier this week, says the Blades are confident of holding off their neighbours' pursuit.
"Things are going so well for us at the moment and the way that we are looking at it is that automatic promotion is in our hands and we don't have to rely on others slipping up," he told Sky Sports.
Consistent
"We are just going out there knowing that if we pick up the right results we will get what we've aimed for at the end of the season.
"I know it is a cliché, but we are literally taking each game as it comes and the next one is the biggest one for us at the moment.
"With just six games to go we just have to keep doing what we've been doing for most of this season.
"We've been fairly consistent throughout and if we keep that up for the next six games we should be okay.
"The way that we are playing at the moment, we always feel like we can score goals from somewhere, which we have done throughout the season, especially at home.
"We feel that if we can keep a clean sheet, which obviously isn't easy, we can go on and win the game.
"We aren't going to approach these six games any differently or try to do things that we haven't done in the previous 40 games because we feel that nothing is broken so there's no point trying to fix anything."
Optimism
The Blades welcome managerless Bournemouth to Bramall Lane on Saturday and despite the South Coast outfit's play-off hopes hanging by a thread, Simonsen still expects a tough test.
"There was a bit of optimism at the beginning of the season for Bournemouth and they were one of the teams fancied by many to do well," he said.
"We got a great result down there just before Christmas and that was a very tricky game which we came out of with three points and a clean sheet.
"Now that we have got them at home is a different game because we fancy ourselves against anyone at Bramall Lane and we are looking forward to it on Saturday."