Brown demands to see documents
John Brown has called on Charles Green to show the Ibrox and Murray Park ownership documents to his Rangers for Change group's lawyer.
Last Updated: 18/07/12 3:56pm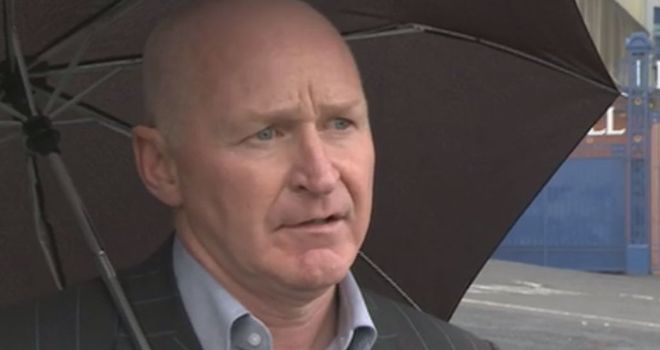 Ex-Rangers defender John Brown has called on Charles Green to show the Ibrox and Murray Park ownership documents to his Rangers for Change group's lawyer if he wants to put the issue behind them.
Green, whose Sevco Scotland company bought the assets of Rangers for £5.5million last month, called for an end to the "distraction" on Tuesday and pointed out he had shown some documents to others.
But Brown, who is attempting to put together a takeover consortium, is not satisfied with those assurances and wants his Rangers for Change legal representative to view the title deeds.
Chasing
Sevco have still to assume Rangers' membership of the Scottish Football Association amid talks over the identity and propriety of their investors and directors, as well as possible sanctions that the club might have to accept.
Brown said: "Our lawyer knows what he is looking for. Why has he not been allowed to see them?
"I have left about 18 messages with Malcolm Murray and Charles Green without a reply.
"We have chased them and chased them and they have refused to let our lawyer see the documents.
"At the Rangers Fans Fighting Fund meeting two weeks ago Charles Green promised on the way out that he would show the documents to our legal representative on behalf of the fans if we signed a confidentiality agreement. Why has he not shown us them?"
Brown and Donald Findlay QC were due to meet Ibrox chairman Malcolm Murray on July 2nd, but Murray called off the meeting.
Sevco have shown documents to members of the RFFF, which was set up in conjunction with the club to help Rangers through the administration period.
"Andrew McCormick and Billy Montgomery have seen it after signing confidentiality agreements and say everything is in order," said Brown, who has enlisted the support of former Rangers captain Barry Ferguson in his bid to launch a fans' takeover.
"Andrew is an accountant, and he's my accountant, and Billy is a fan. They are honest guys and Rangers fans through and through but they are not lawyers.
"They are not qualified to go through it with a fine-tooth comb.
"When I buy a house I get a lawyer to check the documents to make sure everything is in order, not an accountant."
Distractions
Speaking on Tuesday, Green said: "We still have these rumbling issues with John Brown.
"We took the proof of title for Murray Park and Ibrox that showed Sevco owned them - and that Craig Whyte was not an investor.
"These things are distractions and we need to end them so we can move on."
A spokesperson for Rangers declined to comment on Wednesday.