McCoist blasts SFA decision
Ally McCoist has declared himself 'extremely disappointed' with the SFA's decision to enforce a transfer embargo on Rangers.
Last Updated: 21/07/12 7:30pm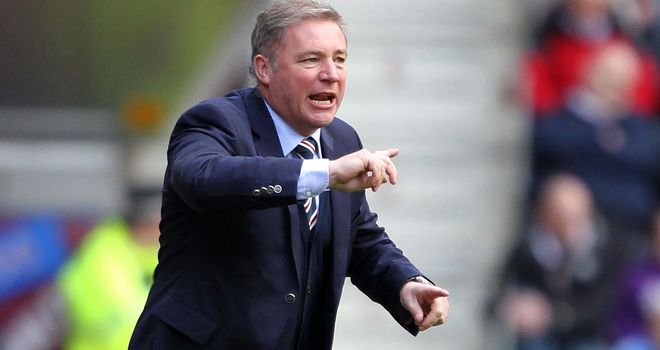 Ally McCoist has declared himself 'extremely disappointed' with the Scottish Football Association's decision to enforce a transfer embargo on Rangers.
Scottish football's governing body stated on Friday that Charles Green's newco had agreed to a transfer ban beginning on September 1st as a 'primary condition' of gaining membership of the SFA, and therefore being granted permission to play in the Third Division this season.
The agreement, which remains subject to final ratification, appeared to give McCoist the green light to add to his threadbare squad ahead of the embargo coming into force.
However, Rangers quickly released a statement in which chairman Malcolm Murray claimed the SFA's announcement was 'premature' and McCoist has reacted strongly to the proposed sanctions.
"I am extremely disappointed that the SFA chose to release a statement last night when the club has not actually signed any agreement," the Gers boss told the club's official website.
"The club is trying to get to a position where we can plan for the season, which starts in only eight days.
"We have had meetings with the SFA all week to discuss membership but I had to leave the final meeting as I could not support the sanctions they were trying to impose.
"The decision has already been taken to place Rangers in Division Three and we have accepted that, along with many more punishments.
"However, operating with an embargo on an already depleted first-team squad - even with a window to sign players - will make the task ahead an extremely difficult one."
Resisted
McCoist believes Rangers have already suffered enough sanctions and has vowed to try and help the club bounce back from such troubled times.
He said: "It is important to remember we have already had a 10-point deduction from the SPL, lost our Champions League place for finishing second last season, had a £160,000 fine, been refused entry to the SPL, been relegated to Division Three and lost the majority of our first-team squad - yet still the governing body has chosen to impose further sanctions.
"The transfer ban has been strongly resisted by me, the management team, the directors and supporters.
"From a business point of view I can understand the position the board has been placed in and ultimately they felt they had no choice but to accept some sanctions in order to move forward - as one of the alternatives could have led to the extinction of the club.
"I can also assure every Rangers fan I will not be accepting any talk of stripping the club of titles. That is something we will never accept and everyone at the club shares this view.
"This is still Rangers Football Club and the supporters will continue to back us as they have always done. There will be difficult times ahead but I know with the support of our fans we can emerge stronger and rise to the challenge.
"Talks will continue next week and we all hope common sense will prevail to allow us to get back playing football."