Rangers boss McCoist wants to move from EBT row
Rangers boss Ally McCoist is fed up that alleged past crimes continue to overshadow his plans to take the club forward.
Last Updated: 24/09/12 9:35am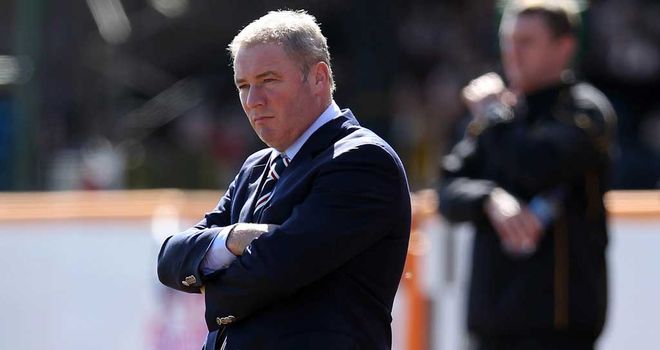 A report over the weekend claimed a draft proposal from the Scottish Football Association and Scottish Premier League asked Rangers to accept the loss of five titles and four Scottish cups in return for a parachute into Division One.
It is alleged that Rangers failed to disclose secondary EBT payments made to players during the years 2000-2011.
An SPL-appointed independent commission will begin a hearing in November with Rangers refusing to participate in the investigation claiming the SPL has no jurisdiction over the Third Division club.
McCoist is frustrated that matters off the pitch continue to dominate the headlines at Ibrox.
"I am dreadfully weary of the whole situation. I will continue to fight but the most important thing is the future of our club," said McCoist.
"The uncertainty from 14 February last year was bordering on catastrophic in terms of the club's future. Now that we have a bit of stability, the disappointing thing for me is that we don't seem to be getting the opportunity to move forward."
McCoist also paid tribute to the backing of Scottish Football League after they refused to take part in calls for the club to be stripped of any titles.
"I'm absolutely delighted with the response from the SFL," added McCoist. "I've said all along, they have welcomed us into the league with open arms and the vast majority of clubs who welcomed us in are all reaping the benefits - as we are from being in the SFL. It doesn't surprise me too much that the SFL have come out in support of one of their clubs to be honest with you. Long may that continue.
"The massive support we have had from within the SFL has been a blessing but it doesn't surprise me. To mention the crime for a punishment before the punishment has been proven guilty or not guilty would be rather strange.
"For example, you don't know if you are going to get 15, 20 years if you commit a heinous crime.
"I do find it strange that 
people want to strip titles or threaten to strip titles before you have been found guilty of any alleged offence."