Charles Green calls on SFL to ensure there is no repeat of Elgin ticket fiasco
Charles Green has demanded the Scottish Football League take steps to avoid a repeat of the Elgin City ticket fiasco.
Last Updated: 28/11/12 4:05pm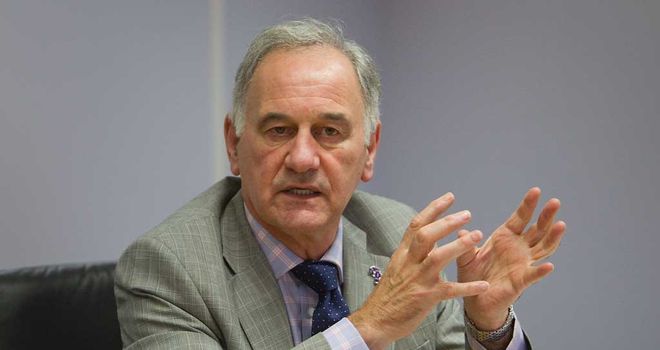 Rangers were due to travel to Borough Briggs last Sunday but the game was postponed on Friday after it emerged too many tickets had been sold for the Division Three clash.
The SFL fined Elgin £25,000 and ordered them to pay Rangers compensation, with Green branding the incident a "complete mess".
He told RangersTV: "I have spoken to David Longmuir on a couple of occasions and he has apologised on behalf of the Football League, and anyone who knows David would expect him to do so.
"He is annoyed and challenged by what happened. Now we have to look at how we move forward because this is the straw that broke the camel's back.
"We know at other games there have been similar issues where people were selling vouchers before matches and there has to be some serious thought by the Football League and all of the clubs because this problem is not going to go away.
"If, over the next couple of years, we continue our pilgrimage through the leagues, if there is no restructuring, then this problem is going to get worse.
"I think we all understand that when Rangers come to town it's a money-spinner and they lost a lot of money at the weekend in terms of local businesses and corporate hospitality."
Rangers are due to host Elgin in the fourth round of the Scottish Cup this weekend.
Green added: "The directors of Elgin will have a big sense of responsibility and when they come here on Sunday I'm sure they'll want to apologise first hand.
"They have been here already this season and we made them welcome and I'm sure we will again.
"I can't suggest for a second that the whole of the Elgin board are complicit in this incident and therefore we have to be reasonable.
"What I would say to Rangers fans is that the Elgin fans are as innocent as the Rangers fans in this matter so they should get the usual Ibrox welcome we have extended to all of the Third Division clubs this year."
Meanwhile, boss Ally McCoist is hopeful David Templeton could make his long-awaited return on Sunday.
The winger's comeback from ankle ligament damage has been delayed by a hamstring injury.
McCoist said: "It's been a little bit frustrating, especially for David himself.
"Hopefully he can join in training at the end of the week and I would certainly be hopeful that 'Temps' could be involved at the weekend, not putting any pressure on him."