Ally McCoist will not take any risks with Rangers striker Francisco Sandaza
Rangers manager Ally McCoist will not take any risks with Francisco Sandaza as the striker prepares to return to action.
Last Updated: 02/12/12 12:46pm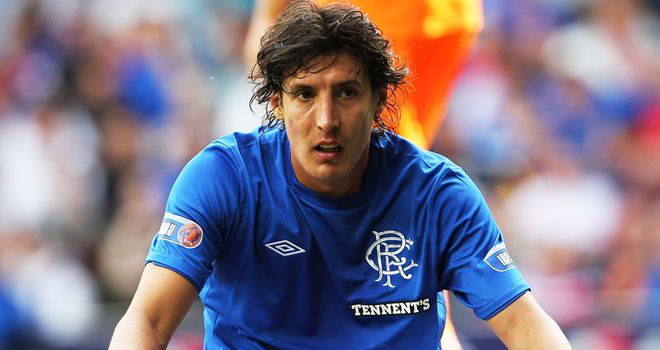 The Spaniard has been out since September with a fractured cheekbone but featured in a midweek reserves match and could be in contention for the visit of Elgin in the Scottish Cup on Sunday.
McCoist said: "He's definitely ahead of schedule and he's keen to get back involved.
"We have had to watch him a little bit. It was an horrendous facial knock and, that being the case, it's a slightly different injury.
"If you're not careful with it, he could seriously damage himself again. He wants to get back, we want to get him back, and we will monitor him.
"He played in the midweek reserves game and scored and he has been looking great in training.
"He would certainly come into our plans but I would have to continue to take medical advice on that one."
McCoist would love to see Rangers embark on a lengthy cup run this season but says promotion from the Third Division remains the main aim.
He said: "Getting out of the division is the priority by 100 miles. But you would like to think you've got the potential to go on a good cup run.
"You look on the cup as being something fresh, something exciting, and you want to go as far in the competition as you possibly can.
"I don't see any reason why we can't get through this tough game against Elgin and then go on a run. That's everybody's dream in the cup."