Rangers will not accept ticket allocation for Scottish Cup clash at Dundee United
Rangers have revealed they will not accept their ticket allocation for February's Scottish Cup clash at Dundee United.
Last Updated: 04/12/12 7:53pm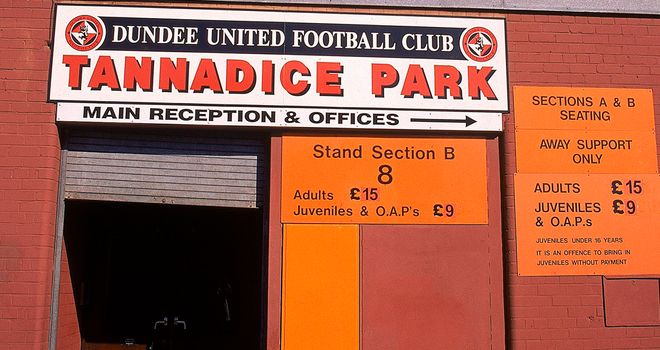 With Rangers drawn to play at Tannadice in the fifth round, supporters' groups have been demanding a stay-away protest for the first match away to SPL opposition since they were relaunched as a new company and denied entry to the top flight.
A club statement quoting chief executive Charles Green read: "Rangers Football Club will not be taking its allocation of tickets for the forthcoming Scottish Cup match against Dundee United at Tannadice.
"This is a unanimous decision by the board, senior management and staff at Ibrox.
"Everyone at this club is dismayed at the actions of certain SPL clubs, which were actively engaged in trying to harm Rangers when we were in a perilous situation and we are acutely aware of their attitude to us."
Some Ibrox fans have been particularly angry with Dundee United chairman Stephen Thompson who was critical of a relaunched Rangers seeking membership of the SPL.
Rangers, who were knocked out of the competition by United twice in the three
years before they suffered liquidation, have lost to Second Division Queen of the South and Inverness in the other cup competitions this season.
They did though beat Motherwell 2-0 in the Scottish Communities League Cup.
Green added: "Not all clubs who voted against Rangers returning to the SPL fall into this category and indeed we made Motherwell very welcome when we played them at Ibrox in the League Cup competition recently.
"However, feelings remain very raw and it should be no surprise that we as a club feel this way. It is unsurprising too that there has been a reaction from our supporters to this particular fixture.
"The last thing we as a club want to do is to compromise security arrangements for any match. I therefore appeal to all fans not to travel to this match and to Dundee United not to sell tickets to Rangers supporters.
"Our only regret is that this turn of events will not assist Ally McCoist and the team in what will be a very difficult fixture.
"We should make clear that the club, the manager and the players all look forward to a situation where Rangers fans attend every match to support the team. The fans are our greatest asset."
A Scottish Football Association spokesperson said: "The matter will be
discussed at the SFA board meeting on Thursday."