Francisco Sandaza sacked by Rangers because of comments to fake agent
Rangers have announced that Francisco Sandaza has been sacked following an investigation into a hoax phone call.
Last Updated: 03/04/13 8:02pm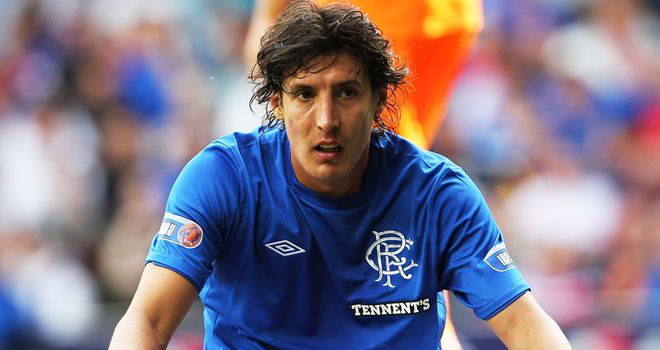 The Spaniard was initially suspended by the club after he made comments in a conversation with somebody who was purporting to be an agent.
The fake agent pretended to sound Sandaza out about a possible move to Major League Soccer in America and the forward then revealed details of his salary, and his thoughts regarding his future, in comments which were subsequently broadcast online.
And a statement was released on Wednesday night which read: "Rangers have decided to terminate its contract with Francisco Sandaza. The player has been advised of the situation.
"Francisco spoke at length to someone posing as an agent and engaged in a conversation which the club believes to be a material breach of his contract of employment.
"The player was suspended but, after careful consideration and a hearing with Francisco and his representatives, the club, and our advisors, believe that dismissal is the appropriate course of action.
"The termination is subject to the right of appeal under SFL rules and there will be no further comment from Rangers on this issue."
The 28-year-old Sandaza signed a three-year deal with Rangers last summer after scoring 18 goals last season for St Johnstone last season.
However, he was less successful at Rangers, only scoring twice in 16 appearances this season for the Ibrox side.