Rangers confirm Charles Green's departure to London Stock Exchange
Charles Green is stepping down as Rangers' chief executive with immediate effect, a club statement has confirmed.
Last Updated: 19/04/13 5:25pm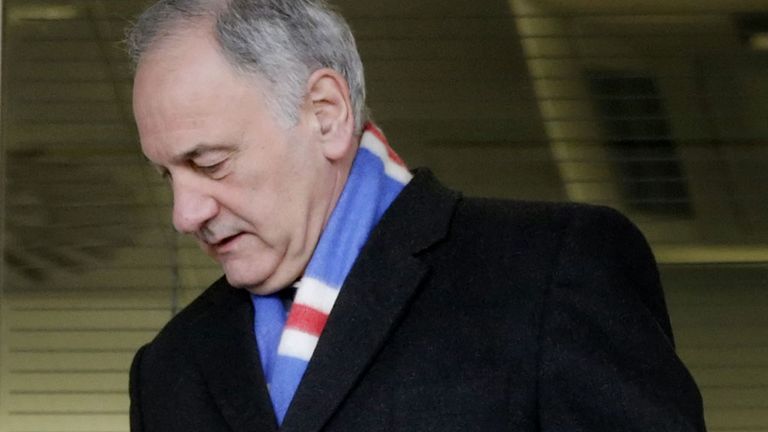 Rangers have notified the London Stock Exchange of Green's decision, which comes less than a year after his arrival at Ibrox.
The Yorkshireman led a consortium that purchased the assets of the liquidated Rangers Football Club plc and established newco Rangers in the Scottish Third Division, but his tenure has been tumultuous.
He is currently the subject of an independent investigation, commissioned by the club's board, following allegations of covert dealings with the club's former owner Craig Whyte.
Green denies any wrongdoing, but he said: "Recent events have undoubtedly been a distraction for both myself and all involved with Rangers.
"I feel it is appropriate I step down so that the club can continue to progress back to where it belongs at the pinnacle of Scottish football.
"I am very proud to have been associated with a club of the stature of Rangers and am proud of the achievements of the club during my tenure as chief executive. My thanks go to the Rangers fans."
Chairman Malcolm Murray said: "Charles Green was instrumental in helping to secure financial stability for the club.
"The impact that he had in turning the club around from the dark days of last summer will never be forgotten by the fans who I am sure, like me, will thank him for this and for choosing to put the club ahead of his personal position at this time."
Green was also forced to apologise after making a remark in a media interview about commercial director Imran Ahmad that incurred a Scottish Football Association charge for "racist and offensive language".
The former Sheffield United chief executive retains a shareholding of around 8%.