Rangers manager Ally McCoist has called for stability and a clean slate at Ibrox
Rangers manager Ally McCoist has called for stability and a clean slate after more turmoil at Ibrox.
Last Updated: 20/04/13 10:04pm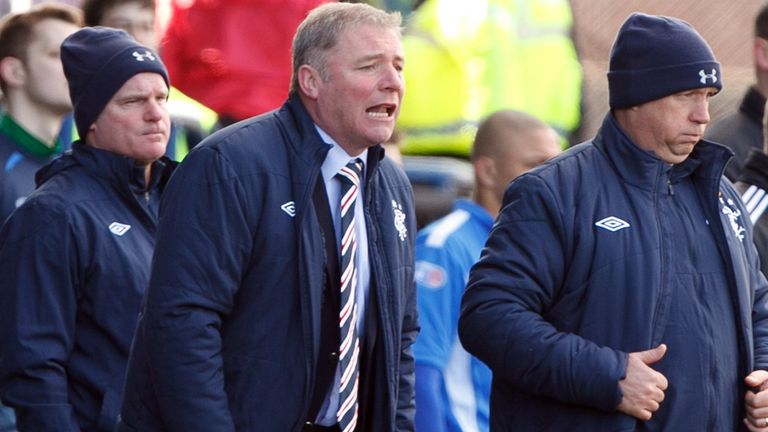 Chief executive Charles Green resigned from his position on Friday amid allegations by former owner Craig Whyte that he was involved in the Green consortium's acquisition of the club last summer.
In the interim, the club have launched an independent investigation and McCoist is anxious that his budget for next season may be affected.
"I was a little bit taken aback when the news broke," McCoist said.
"My opinion hasn't changed one bit in the respect that the most important thing will always be the club.
"We must move forward. No matter who is in charge, we need a little bit of stability, there is no doubt about that. We need to look to build for next season.
"Let's be honest, the last six weeks or so, the whole thing has been all over the place, with one thing or another.
"We need stability, so that every press conference I go to I get quizzed about football and teams and players and bad results and good results.
"That's stability for me and we've not had that for the best part of two years.
"What the club actually needs is to be totally cleansed, to give ourselves an opportunity to move on. Just everything out in the open.
"And hopefully this investigation will do that so we can get everything out in the open, we can cleanse ourselves, everybody can see what has been going on and everybody can see, hopefully, where we are going to go."
McCoist fears that Green's exit could have an adverse effect on his spending for next season; Rangers have been under a transfer embargo this season.
"I would imagine that might have changed from what I was told prior to the departure of Charles," he added.
"I would settle for it not changing but I've got a sneaky wee feeling it might change.
"I'm just guessing. I hope I'm wrong. I was told what the budget would be but I'm fearful that might not be the case now. I was happy with it."