Gary Locke denies claims that Hearts begged for Rangers friendly
Hearts boss Gary Locke has hit back after Rangers fans claimed they would have snubbed a friendly with the Jambos.
Last Updated: 01/07/13 4:34pm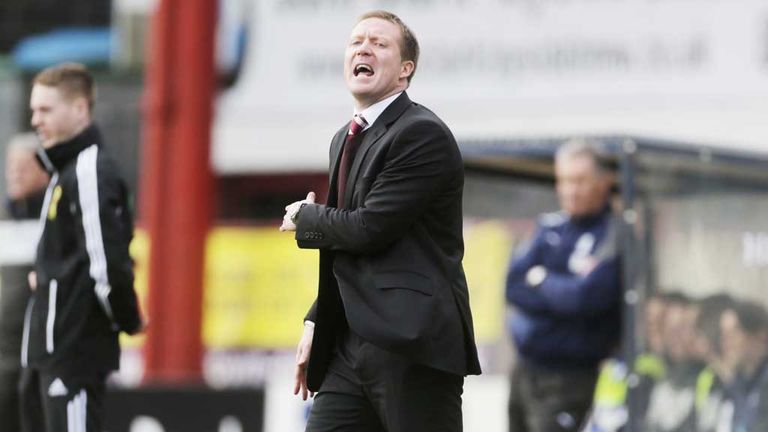 Reports suggested that Locke had approached Gers manager Ally McCoist about a possible fundraising match to help the cash-strapped Jambos.
A spokesman for the Rangers Supporters Association said the team's fans would not have attended the fixture after Hearts voted against plans to allow Rangers to re-enter the Scottish Premier League following their liquidation last summer.
But Locke has revealed he spoke to McCoist before Hearts called in administrators and claims the only backing he needs is from their own fans.
"I was asked a question about whether I'd spoken to Ally. Of course I did but it was really just to see what his pre-season plans were, just because we needed a game," he said.
"It was done before we went into administration and was the same as I've done with just about every manager in Britain.
"Ally said that Rangers had their pre-season plans in place. That was as far as it went.
"Then I picked up papers saying I was begging for a game. That's certainly not the case.
"I know Ally well and I was just trying to get a pre-season game. It wasn't a must. I've asked Berwick Rangers for a game but they have got their plans organised, but that never gets a mention because it's Rangers.
"We will get out of this situation on our own. We have got a great fan base that will help us and we won't be relying on anyone else."
Hearts have organised friendlies with Dunfermline and Raith Rovers and will also travel to Belfast for a four-team tournament involving hosts Crusaders, Liverpool and Celta Vigo.
They are also keen to host a money-spinning friendly at Tynecastle on July 20.
"There's a couple of things that I am hoping we can get sorted in the next day or so," said Locke. "We're hoping it will be really good opposition because it's important we get a good game just for the preparation of the players."