Angry Rangers supporters call for Charles Green's removal from the club
A number of Rangers supporters' groups have joined together to call for Charles Green's removal from the club.
Last Updated: 19/08/13 3:42pm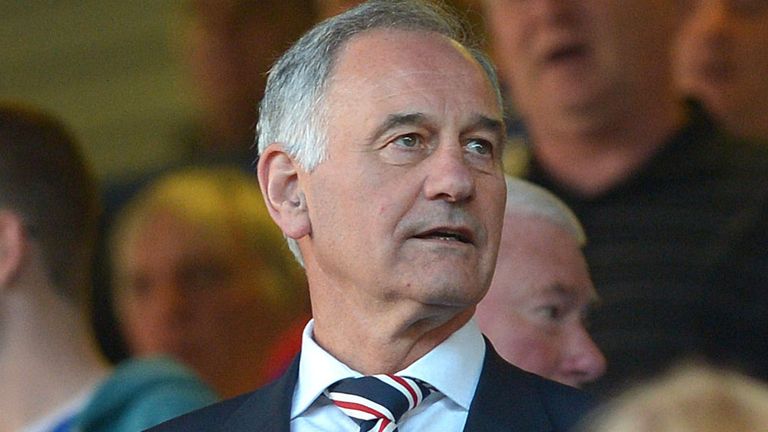 The Ibrox board is due to meet on Monday to discuss Green's future involvement after his controversial return last month.
Green resigned as chief executive in April amid allegations of a link to former owner Craig Whyte and anger over racist comments he made about former club director Imran Ahmed.
The Yorkshireman wasted no time in angering boss Ally McCoist after he returned, claiming McCoist would have a 'problem' if failing to add one of Scotland's domestic cups to their predicted success in Scottish League One.
Rangers went on to lose their Scottish League Cup tie to Forfar not long after Green's comments were published.
And now The Rangers Supporters Assembly, The Rangers Supporters Association, and The Rangers Supporters Trust have issued a joint statement to directors demanding Green's removal.
It read: "There are significant concerns among our worldwide fan base over the conduct of former CEO, Charles Green.
"Mr Green has been very outspoken in the media, and has clearly undermined the manager and the team. He is also purported to be giving support to a financial claim to be made against the club which we feel represents a conflict of interest for him and the club.
"We strongly urge the Board to terminate Mr Green's consultancy role and make a clear decision to either accept the requisition to make changes to the Board, or confirm the date of the EGM."
They have also backed an official request from a group of shareholders to hold an extraordinary general meeting to remove chief executive Craig Mather and a number of directors, and expressed anger that £22million raised by a share offer that has already been spent.
The statement continued: "We were greatly concerned at the fans' meeting on August 8 to learn that there is only £10m in the club's account.
"This is especially worrying considering the club has benefited from two seasons worth of season ticket sales (over 70,000) as well as the £22m raised in last year's IPO.
"From the wording of the EGM requisition, and the media comments of Jim McColl, we understand the requisition does not mean a potential takeover of the club but is an attempt by a large group of shareholders to have their views represented on the board and to bring much-needed stability to the club.
"We are confident that fans will support Mr McColl and his colleagues and we can also work with them towards a fan ownership/representation model."