Rangers goalkeeper Scott Gallacher expected to go out on loan next week
Rangers goalkeeper Scott Gallacher looks certain to go out on loan when the club's transfer embargo ends next week.
Last Updated: 28/08/13 7:16pm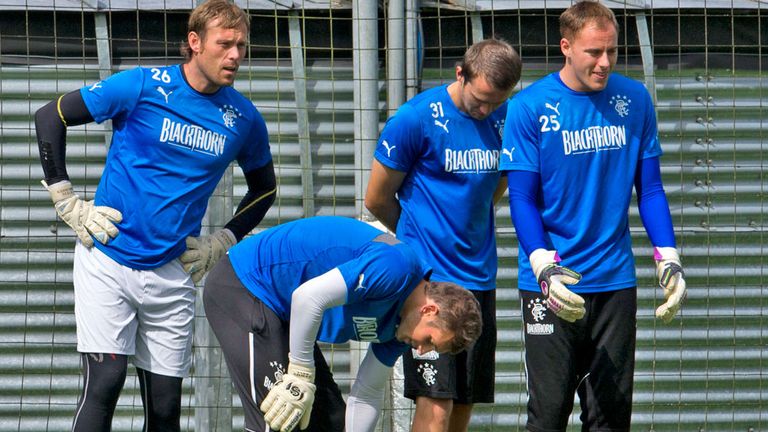 Gallacher kept his fourth clean sheet in seven games in the 2-0 Ramsdens Cup win over Berwick, but Ally McCoist is set to make Cammy Bell his starting goalkeeper when he registers at Ibrox on Monday.
McCoist also has former Dundee goalkeeper Steve Simonsen on trial and he would be Bell's back-up if Gallacher is loaned out for some first-team experience.
"Steve knows we would like to offer him something if we can get Scott out on loan to play games. It's quite simple," said McCoist.
Speaking after the victory over Berwick, Gallacher said: "I'm not sure exactly how things stand at the moment and we'll just need to wait and see what happens.
"Up to now, I've had a really good run in the team. It has been a great start to the season and it has been good to play in the team.
"I've been enjoying it personally and I feel I've been doing well in matches and also in training with Jim Stewart. He has been keeping me confident and showing me all the right things to do so it has been very beneficial for me.
"No matter what happens going forward, I definitely think this season will benefit me and playing games for Rangers at the start of it has been a massive bonus.
"From a selfish point of view, I hope it's not my last game for the team for a while but if the gaffer wants me to go on loan that's what I need to do."
McCoist also confirmed that defender Darren Cole has been released just a few days after he was disciplined for failing to show for a reserve friendly against Cambuslang Rangers.
The 21-year-old made five first-team appearances for Rangers but had not featured this season, and McCoist said: "Darren's contract has been terminated and he goes with our best wishes. It's a mutually-agreeable situation and hopefully he progresses."
McCoist is now keen to complete the signing of 19-year-old midfielder Sam Kelly, who has been training with Rangers after being released by Everton.
"Sam has showed up well too in training," McCoist added. "I haven't had a chance to speak to Craig Mather about him yet but I will to see if there's a possibility we could maybe offer him something.
"I have said my priorities are at centre-forward and centre-half, there's no doubt about that, and Sam doesn't play either of those. He'd be a luxury but a nice one to have."
Meanwhile, McCoist's hopes of bringing Kenny Miller back to Ibrox look to be over after Vancouver Whitecaps confirmed they had "no intention" of releasing the veteran striker before his contract expires next June.