Paul Murray believes Rangers will attract fresh investment after next month's AGM
Former Rangers director Paul Murray is confident fresh investment will be made in the club after next month's AGM.
Last Updated: 29/11/13 8:55am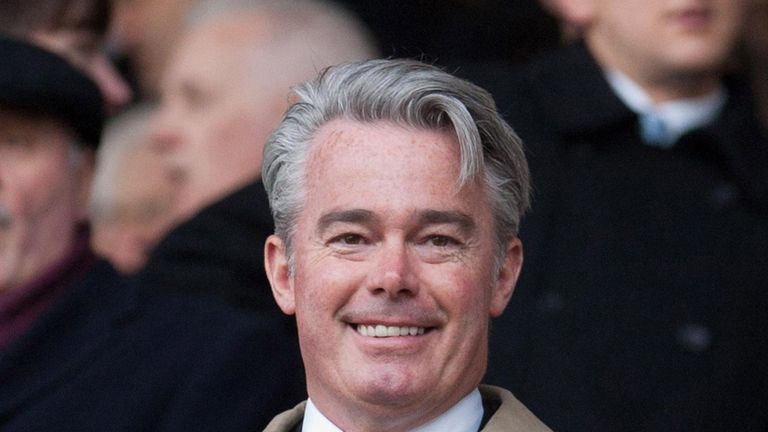 Murray, a director of oldco Rangers who is looking to be part of a new set-up at the Scottish League One side, was speaking at a forum in Glasgow attended by several hundred of the club's fans.
Scottish businessman Jim McColl, former Ibrox chairman Malcolm Murray and board nominees Scott Murdoch and Alex Wilson, completed the top table in the 'cards on the table' exchange which was chaired by former Rangers director of football Gordon Smith.
When asked how confident he would be of attracting investment to the club if his group were successful, Murray said: "Very confident. This is a fantastic club and a good business.
"I sat on the board for four years when we generated £20m in cash. That wasn't down to me, it was down to Walter Smith and the team. But it shows it is not impossible to run the club properly.
"What we have been told by the investors we have spoken to, both public and private, is that if we get the right board and business plan together then they will back us with more money.
"People can see the value of Rangers in the long-term. But no-one wants to put money in when you have an unstable situation and concerns over financial matters and governance."
Three new members of the current board, chief executive Graham Wallace, chairman David Somers and non-executive director Norman Crighton, along with financial director Brian Stockbridge, declined an invite to attend the forum, a decision which Murray found baffling.
"The three individuals who have come in to the club appear to have credible CVs, they tell us they are independent," he said.
"It seems odd to me that they haven't come along, even if only to actually meet the customers of the club."
Prior to the meeting, Rangers issued a statement hitting back at what they call the 'requisitioners'. In part it read: "We continue to be deeply concerned at the unsubstantiated allegations being promoted by the requisitioners.
"These men, in particular Paul Murray and Malcolm Murray, portray themselves to our loyal fans as potential guardians of corporate governance, yet every action they take threatens to destabilise our club, could further influence the share price and may hamper the club's ability to attract additional commercial partners in the future.
"We challenge them to prove their allegations but if all they can provide is rumour and hearsay they should now cease causing further damage.
"We believe that fans do not want to go back to the days of administration, relegation, boardroom strife and infighting which will ultimately prevent Rangers competing once again at the highest level.
"We believe that this could be a result of what McColl's group is offering."
The Rangers AGM will be held at Ibrox on December 19 where the current board, Wallace. Somers, Crighton, Stockbridge and non-executive director James Easdale, will be seeking re-election.