SPFL: Rangers boss Ally McCoist has appealed to fans to stop throwing flares
Ally McCoist has appealed to Rangers fans to stop carrying flares after one was thrown onto the pitch at Falkirk.
Last Updated: 02/12/13 5:08pm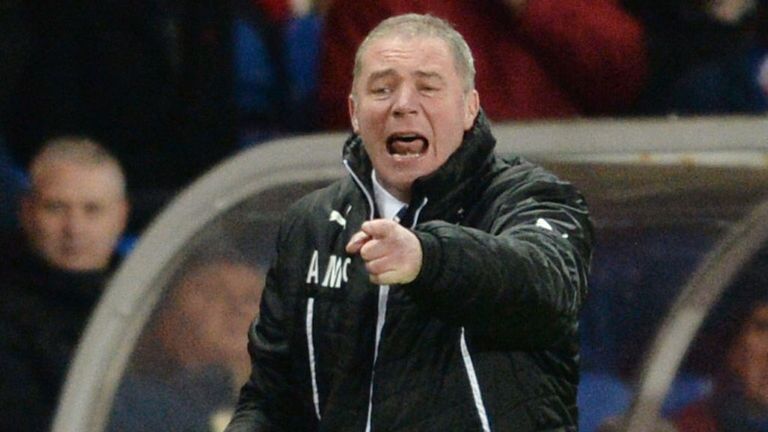 The game's governing body called for the probe after Falkirk's synthetic surface was damaged when a flare was set off from the stands after the final whistle of the Scottish Cup fourth-round tie.
Rangers immediately launched their own investigation and insisted they would help Police Scotland in any way they could with their enquiry.
And speaking ahead of Tuesday's home game with Forfar, Ibrox boss McCoist said: "Our fans have been absolutely fantastic, they have been wonderful in their support and we don't want that to change.
"But needless damage to any surface, particularly a new surface that Falkirk have just brought in, doesn't do the club any good at all.
"We would just ask them to behave. No matter what team you support or whatever game you go to, I don't think it's asking too much to go and watch it in a safe atmosphere.
"That is, without doubt, the most important thing. We have to do everything we can to stop these things happening."
In another incident, play was briefly held up in the early stages of Albion Rovers' victory over Motherwell at New Douglas Park when a smoke bomb was thrown onto the pitch from the Scottish Premiership side's support, one of several which were let off during the game.
And McCoist believes the authorities must now seriously look at both incidents to protect the safety on innocent match-goers.
"The fact of the matter is, if it endangers people coming to watch football we don't want it," he said.
"It's something I would imagine the security services, whether it's the police or ambulance, would rightly be dead against. I would imagine the authorities would have strong views on it."
And his view was echoed by SFA president Campbell Ogilvie who has promised to work closely with all Scottish clubs to ensure the problem is eradicated.
"We have written to all parties involved in the two incidents and we await their replies but there is no room for that type of behaviour," he said after helping oversee the draw for the fifth round of the William Hill Scottish Cup.
"One of them burnt the pitch but more importantly there could have been a serious injury. There is no room for flares at all within football stadia. It's something we have got to work hard at.
"We worked hard at the alcohol side and coin-throwing and eradicated these issues. Flares have crept in from the continental games.
"We have got to get to the root of the problem and stop the behaviour in the first place. We will work closely with the clubs to try to ensure this is eradicated."