Scottish football: Five Rangers directors re-elected to the club's board
All five Rangers directors have been re-elected to the board, the club have announced.
Last Updated: 20/12/13 7:04am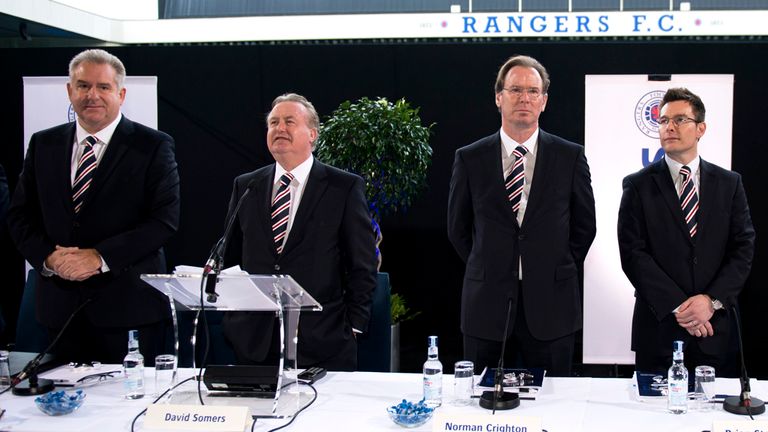 The outcome of the votes was announced in a statement to the London Stock Exchange following a stormy annual general meeting at Ibrox.
Finance director Brian Stockbridge received 65.3 per cent backing from shareholders while his four colleagues all secured more than three-quarters of the support.
Sky sources had predicted that the current board would win the vote by a comfortable margin, but there will be surprise that some of those were in excess of 80 per cent.
Meanwhile, the four so-called requisitioners - Paul Murray, Malcolm Murray, Wilson and Murdoch - all polled close to 30 per cent of the shareholder strength.
Rangers chief executive Graham Wallace said the club are committed to improving communication with their supporters and urged them to get behind the board.
Wallace said in a statement: "The board sought a clear and decisive mandate from shareholders to provide a platform for stability and is pleased that the voting has provided this.
"The board recognises that improved engagement with supporters is a major area of focus and is committed to reviewing how the club engages with the wider supporter base.
"We now require a period of stability in order to take the business forward and I encourage everyone with the best interest of Rangers at heart to support fully the new board in developing the club and growing shareholder value."
Rangers chairman David Somers, who was greeted by loud jeers when opening the AGM, added: "We are pleased that the board, with its focus on corporate governance, prudent financial management and strategic commercial development, has been decisively re-appointed by a high turnout of shareholders at the AGM."