Ally McCoist backs Court of Session decision over Imran Ahmad
Ally McCoist welcomed a court's decision not to grant former director Imran Ahmad an order ring-fencing £500,000.
Last Updated: 26/02/14 10:35am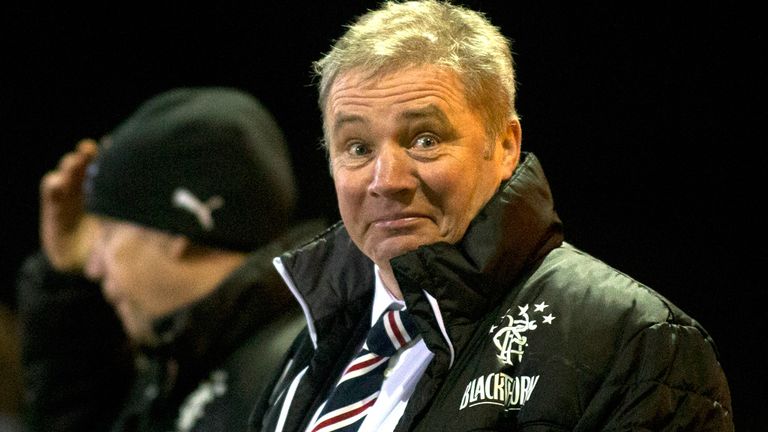 Ahmad resigned as the club's commercial director last April after he was accused of posting anonymous online messages criticising McCoist and former chairman Walter Smith.
He told the Court of Session in Edinburgh that he was due bonus money from his 10-month spell with the club, with his lawyers attempting to freeze the cash claiming Rangers Football Club Ltd is trading insolvently and would be unable to pay if he won his claim.
But Lord Tyre rejected the motion for arrestment after an opposed hearing.
When asked about the matter after his side's 2-0 win over Stranraer, McCoist said: "The club were fighting that [case], so from our point of view it was a good result."
The victory came 36 hours after Rangers announced they had been forced to accept a £1.5m loan from football board chairman Sandy Easdale and investors Laxey Partners just to keep the Ibrox lights on.
But there was little spark in a flat performance at Stair Park as goals from Lee Wallace and Jon Daly secured a scrappy victory which maintained their 21-point lead at the top of League One.
However, McCoist was grateful that Cammy Bell was alert to pull off a pair of fantastic saves to keep out a Daly miskick and Scott Robertson's drive.
McCoist added: "I thought we were very professional without being anything other than that. We were solid enough. The goalkeeper's had a couple of good saves. I'm disappointed in us in terms of getting forward. Jon was a little bit isolated. It was professional enough.
"It's a difficult place to come to, so another clean sheet and two goals means I'm fairly pleased. I was disappointed not to build on the early goal. I wasn't too happy with the reaction. We sat back a little bit.
"Cammy's one in the first half on the right-hand side was an excellent save, though I was disappointed with the defending. He's kept another clean sheet and I think he's the main reason we kept a clean sheet. He gets the credit from myself and the staff. Hopefully that's enough."
Stranraer boss Stevie Aitken also paid tribute to Bell, adding: "I'm very proud. I thought again we competed with the best football side in the division by a long way. I thought we competed really well for 90 minutes and the scoreline was a bit harsh to us in the end.
"Bell's first two saves in the first half were world class. How he got to them I don't know. But that's the players they have got - they've got the players in their team who can do that."