SPFL: Dave King rubbishes reports of impending administration at Rangers
Former Rangers director Dave King insists reports of administration at Rangers are wide of the mark.
Last Updated: 03/03/14 2:57pm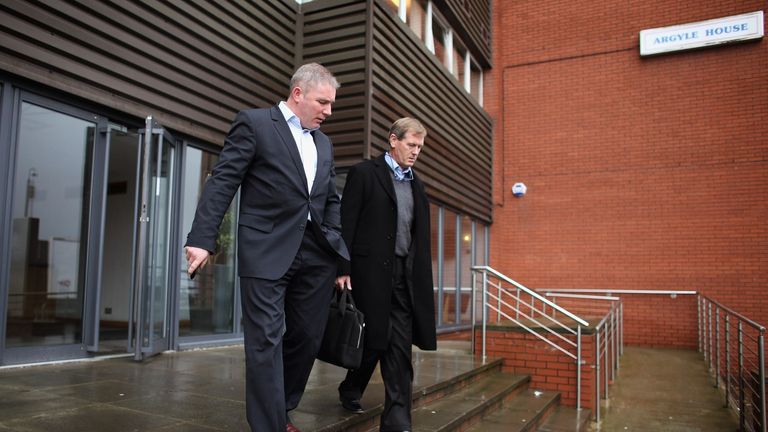 The South Africa-based businessman, who invested £20m in the club before it was consigned to liquidation in June 2012, insists there is no truth in the rumours which swept through social networking sites over the weekend.
A number of high-profile bloggers claimed Rangers chief executive Graham Wallace was preparing an insolvency event, just over two years since oldco Rangers were put in administration on Valentine's Day 2012.
The club, currently closing in on the League One title, responded by claiming the rumours were 'completely false' and early indications in share trading in the club showed no sign of panic with the price up 50p to £30.50p at midday.
King, who has called on fans to withhold season-ticket money due before the end of the campaign, and place it in trust rather than hand it over to the club, said: "I don't believe that it is likely that the club will go into administration at the present time."
And King has thrown his weight behind manager Ally McCoist's decision to distance himself from the power struggle at the Ramsdens Cup finalists.
McCoist refused to be drawn on any financial issues at last week's press conference ahead of their 1-0 victory at East Fife - a win secured by an injury-time penalty from skipper Lee McCulloch.
"I believe that it is the manager's job to focus on team affairs and to stay away from the corporate activities that he has no influence over," he said.
"I have not had discussions with Ally on my recent statements and I don't believe that it would be appropriate for me to do so.
"Ally has always demonstrated his loyalty to the club and will, no doubt, continue to put the club ahead of any individual."