SPFL: Dave King blasts Rangers for failing to avert current financial crisis
Dave King insists Rangers were fully aware of their financial predicament when refusing his offer of aid last year.
Last Updated: 05/03/14 2:57pm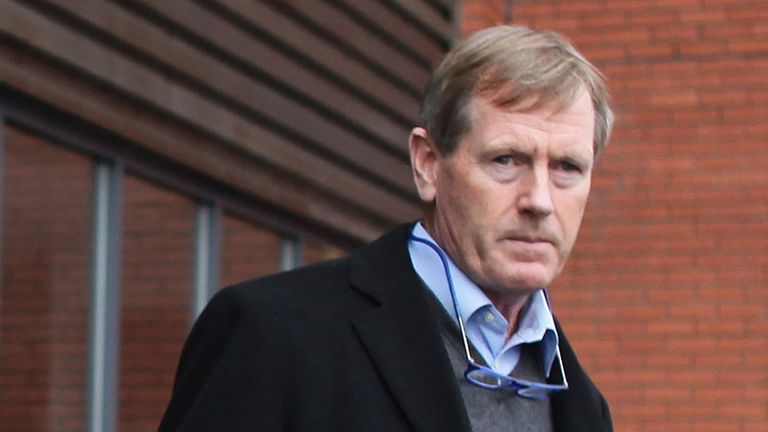 The Scottish League One side are reportedly going through up to £1m a month in running costs and were forced to borrow £1.5m of 'working capital' last month to help see them to the end of the season.
The crisis loan followed the refusal of the first-team squad to accept a 15 per cent reduction in their salaries, a move which prompted King to call on fans to withhold season-ticket money due at the end of the current campaign.
King, who invested £20m in the club before it was consigned to liquidation in June 2012, called on supporters to put their cash in a trust fund and hand it over to the club on a game-by-game basis fearing they would not see out next season without the need of further substantial investment.
His rallying call was met by a furious Rangers chairman David Somers who summoned him to a meeting to explain his actions and outline exactly why he is attempting to 'damage the club'.
But speaking to Sky Sports News, the South Africa-based businessman said he could not sit idly by while the current board continued to bury their heads in the sand over the parlous financial state of the club.
"As someone who has been around the club as long as I have, I know they are running out of money hence my approach to them late last year," he said.
"I said then 'it's now early enough to anticipate you will not make the end of the year on your current cash balances and let's now try, and in an orderly fashion, go about a new fund-raising exercise'.
"I was happy to be a significant investor, in fact a leader of a consortium putting new funds into the club with the only condition that the funds went into the club. I wasn't interested in taking on existing shareholders and buying their shares out.
"I was looking for a new share issue and for those funds to go into the club and into the team and really all that's happened is they have adopted a 'Nero fiddling while Rome burns' approach where the inevitability of the next couple of months has come to pass.
"The board has done nothing, has not been transparent at all with regard to the finance and we now know as a matter of fact that the club has run out of funds and is trying to shuffle on in the hope that the fans will once again come to their rescue.
"They are looking for them to give enough money for season tickets so they can continue for another couple of months before again ending up in another financial crisis. That is what I am trying to avert at this point.
"The board has said my intentions are nothing other than damaging but in fact the opposite is true. The board should go to the fans and say 'this is the true state of the position at this club'.
"Yet they will be relying again on the fierce loyalty of the fans in the belief that they will once again stump up their season ticket money, give them a windfall of cash for the next couple of months to shuffle away with no questions asked.
"What I am saying to the fans is 'ask the board why they are not being transparent?' It is something you would expect of any public company and more particularly a company where they themselves are admitting they are in financial trouble by admitting they want the fans to bail them out once again.
"I will now meet the board as requested. I will visit the institutions in London next week and put a schedule together with some of the existing shareholders to understand where they are and how they would feel about a rights issue.
"Also, whether they would participate, whether they would give the rights to someone like me and I would like that out of the way before I meet the fans.
"Then I will stay up in Scotland for as long as it takes until we have a definite gameplan as to how we will go forward from there."