SPFL: Rangers fans group backs Dave King proposal on season tickets
A coalition of Rangers fan groups says it will press ahead with Dave King's plan to withhold season-ticket cash.
Last Updated: 14/03/14 8:19pm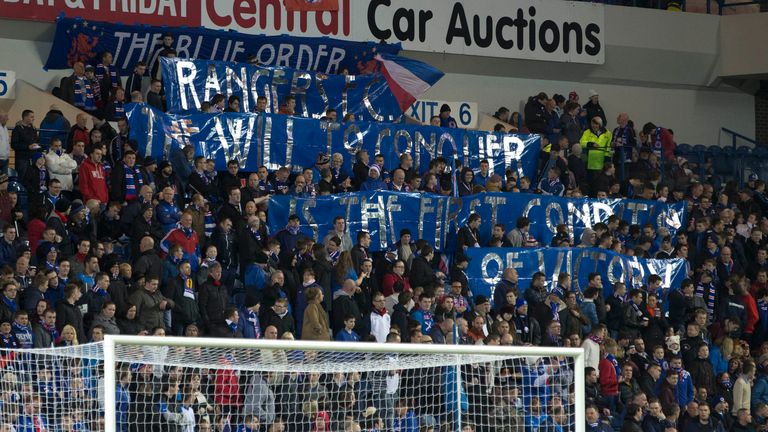 South Africa-based businessman King has flown to Glasgow for talks with fan groups and investors and the former director also had a meeting with club chairman David Somers on Friday.
A supporters' collective, the Union of Fans, have set up the trust fund first suggested by King last month to collect season-ticket money from the Light Blue faithful.
It says it will only pass on the cash to the current board once it has given supporters assurances about the club's finances. The fans claim that the club could be cast into 'the wilderness' without King's support.
The move comes after Rangers posted a £14.4m loss last year and were then forced to enter into a £1.5m loan arrangement with investors Sandy Easdale and Laxey Partners.
The agreement hands Easdale and Laxey security over the Albion car park and Edmiston House facilities near Ibrox, and Laxey a guaranteed £150,000 profit on the deal; the club say they are now examining a counter-offer from shareholder George Letham.
The fans' statement read: "We believe that if the board is happy to hand over security for the Albion car park and Edmiston House, in return for a high interest loan, then they should be happy to secure Ibrox and Auchenhowie (training ground) for the supporters.
"The board has already publicly stated that it has no plans to use these assets to raise finance and we therefore see no reason why it would not comply with this request."
The statement continues: "It is clear from Friday's meeting that Dave King shares the concerns of supporters with regard to the desperate need for investment in the club.
"He has indicated that he is willing to provide that investment by taking a lead role in a fan-based initiative and we are fully supportive of the terms on which he wishes to do so.
"We have arranged to meet again early next week to move the plans forward once he has completed a series of further meetings over the weekend. We would hope to then be in a position to release specific details.
"We are extremely happy with what we see as a clear path forward to return Rangers to health and put the club on a secure footing, where it can challenge for the league and in Europe in the years to come.
"Without the investment being offered by Dave King and others, and with the current board planning to slash costs across the club, which could even delay our return to the top league, we fear that Rangers could be left in the wilderness for years to come."