Ally McCoist says he is keen to add to his Rangers squad during the summer
Ally McCoist is unsure how much money he will have to spend at Rangers due to the club's current financial plight.
Last Updated: 28/03/14 5:03pm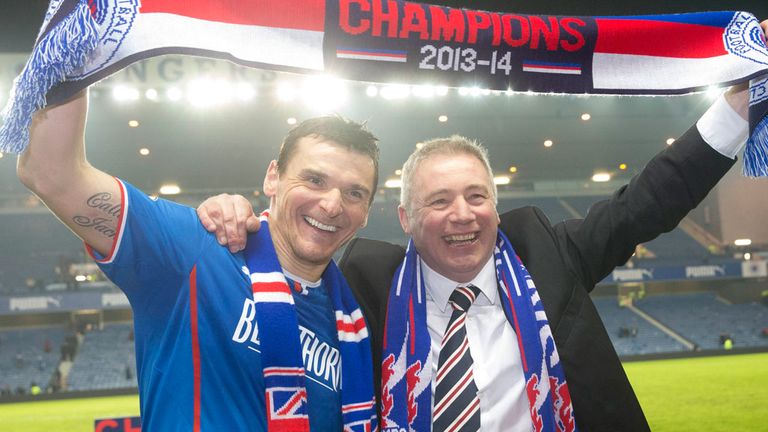 The League One champions posted a loss of £3.5m for the half-year to December 31, 2013, while high running costs have forced them to borrow £1.5m from within Ibrox to help see them through to the end of the season.
Former director Dave King and a number of supporters groups are calling on fans to withhold season-ticket money in favour of a trust set up to pay the club on a game-by-game basis, and this situation has forced chairman David Somers to fire a warning over their future as a 'going concern'.
McCoist brought nine players in last close season - Cammy Bell, Steve Simonsen, Bilel Mohsni, Stevie Smith, Richard Foster, Nicky Law, Arnold Peralta, Nicky Clark and Jon Daly - and is hoping to add to his squad ahead of their Championship campaign.
In a statement released along with the club's interim results on Thursday, Somers said: "Operating costs had been running at a rate that could not be sustained by the revenue being generated by the club.
"For example, in the period under review, nine players were signed at a time when the club already had the second highest wage bill in Scottish football whilst playing in the third tier."
But speaking ahead of Saturday's trip to Arbroath, McCoist claimed the results on the pitch throughout the season justified his decision to add so many to his squad last year.
"We brought players in last year that's obviously evident," he said. "We've won the league, are in the final of the Ramsdens Cup, in the semi-finals of the Scottish Cup and I don't think we would have achieved that without those players.
"So in an ideal world we have to keep moving forward and keep progressing. It is our job to do that and we are certainly looking to bring, if we can, changes to the squad.
"But I think the lads in the league campaign have done fine, 28 wins and two draws out of 30 would be acceptable in most team's books I would have thought. And obviously longer term and mid-term we need to do that again next year and that's to get out of the division."
On the disappointing set of figures, and their implications on his squad-building for next season, McCoist said he was in constant dialogue with chief executive Graham Wallace and has yet to be told what, if anything, he can spend.
"I don't know if the results (financial) concern me. Obviously I speak with Graham two or three times on the phone daily and we meet three, four, five times a week and until he tells me they will affect my plans for next season then I won't worry about it.
"I have to do my job, as the rest of the boys have, and that's to prepare for a big end to the season and, mid-term, for next season."
Catch up with Ally McCoist on Goals On Sunday from 10.30am on Sky Sports 1