Rangers midfielder Kyle Hutton hopes to do enough to earn a new contract at Ibrox
Rangers midfielder Kyle Hutton hopes to use the finals three games of the season to enhance his future prospects.
Last Updated: 22/04/14 6:49pm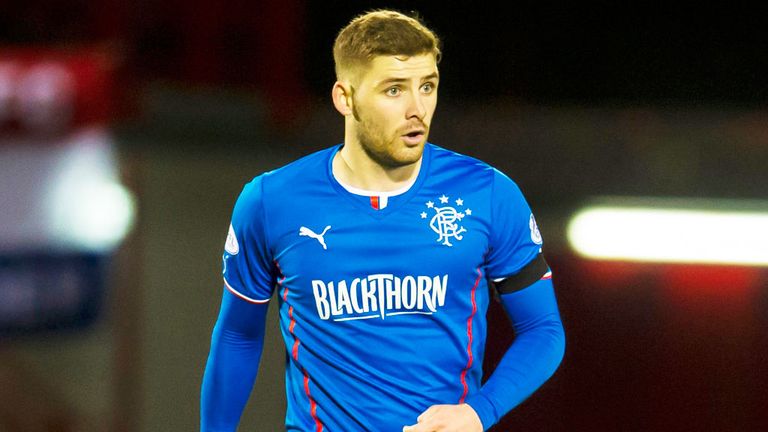 The 23-year-old is out of contract with the League One winners this summer and, while he would prefer a new deal at Ibrox, Hutton is pragmatic regarding the ongoing problems at the troubled club.
Despite their status as a third-tier club, Rangers have the biggest squad in the country, and the second highest wage bill after Scottish champions Celtic.
Rangers will announce the outcome of a 120-day review into finances at the club later this week, and it seems likely severe cuts will follow shortly.
Hutton has endured a miserable campaign with injuries and he made only his second league start of the season in the win over Stenhousemuir on Saturday, and he hopes to show his worth in the coming weeks.
"This is the last year of my contract so I am basically fighting for a deal," Hutton said. "So obviously in the remaining games if I get my chance I need to go out and show the gaffer that I'm up to having a new deal.
"Hopefully I can do that in the next few games - I will be totally focused. My agent has spoken to the manager so I will just need to see what happens. I just need to keep performing well.
"I'm not sure when it will be sorted out. If I knew I would say, but I have got no idea.
"Obviously there is stuff going on in the background so you need to wait until all that is sorted out so all I am concentrating on is trying to play well on the pitch and showing him that I'm worth a new deal.
"I would like to get it sorted out before I go away anywhere in the summer, but I'll just have to wait and see.
"Obviously you are conscious of it, it is your job and I love being here at Rangers, but as soon as I go out on that pitch it goes right out my head and I just concentrate on my football.
"I just need to totally focus and keep playing to prove myself to the gaffer.
"Touch wood I am over the injury problems I've had. It has obviously been a tough season injury wise. I had a broken right leg and I tore my tendons in my left leg so it has been a really bad season for me personally.
"I'm just getting my touch and match fitness back so hopefully I can kick on now."