Rangers financial review due on Friday as shareholder warns of club's 'fragile position'
Ally McCoist hopes the content of a report on Rangers' finances will bring clarity amid fears for the club's future.
Last Updated: 24/04/14 5:35pm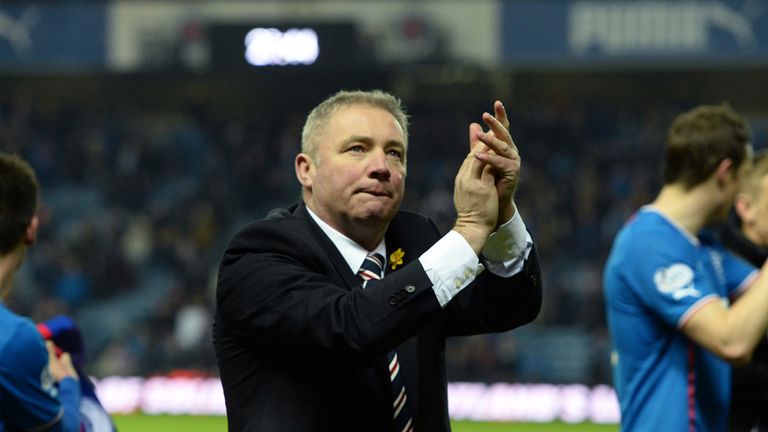 Chief executive Graham Wallace's much-anticipated 120-day review is due out on Friday, and a fans' group has been withholding season ticket subscriptions until its findings are clear.
One Rangers shareholder claims slow ticket sales are doing little to help the club's "fragile position", and the uncertainty leaves McCoist unsure of his budget for next season's Championship campaign.
"I wouldn't say I'm worried," said the Rangers manager. "We will react to what we are told we can and cannot do.
"But worries are something that have been with us in one shape or another for the last couple of seasons. We will just have to wait and see what happens and react to it accordingly.
"It's of paramount importance that we start talking to our own players about the club and their futures. The next step is planning for the squad for the future.
"We've not been able to offer other players any deals and that leaves them open to offers from elsewhere. That is obviously a potential problem for us but there is nothing we can do about it."
In the meantime major shareholder Sandy Easdale has urged supporters to provide financial assistance at what he claims is a precarious time for the newco club, formed after oldco Rangers were liquidated in 2012.
In an interview with BBC Scotland he said: "I would say that in 140 years, the club's gone into administration once; I don't think it would survive a second one.
"So I would ask every loyal Rangers fan, and I pick my words correctly in saying loyal Rangers fan, supports the club at this time and gives it a chance.
"We don't want to go back to the dark days of administration. Everything's a possibility and at the moment we've got to look on a positive as a board, taking it forward."
But an association of supporters' groups, the Union of Fans, this month backed calls by former oldco director Dave King to withhold ticket money and is demanding security over the club's Ibrox stadium and Murray Park training ground before parting with the cash.
A Union of Fans statement, released in response to Easdale's interview, read: "The financial position of the club is not down to lack of support or loyalty from any of our fans, it is down to two years of mismanagement and the squandering of huge sums of money.
"We would like to know why Mr Easdale is being pushed out to speak on behalf of a PLC board he is not part of.
"Mr Easdale's comments about the financial position of the club are share-price sensitive, as are his comments about possible administration. These comments directly contradict those of the CEO, Graham Wallace, who is on record as saying that a second administration is not a possibility."
Speaking in February Wallace said: "I can categorically say is that there is no threat of a second administration."