SPFL: Rangers' fans group calls for suspension of CEO Graham Wallace
Fans of Rangers have called for chief executive Graham Wallace to be suspended in light of his recent financial report.
Last Updated: 28/04/14 12:23pm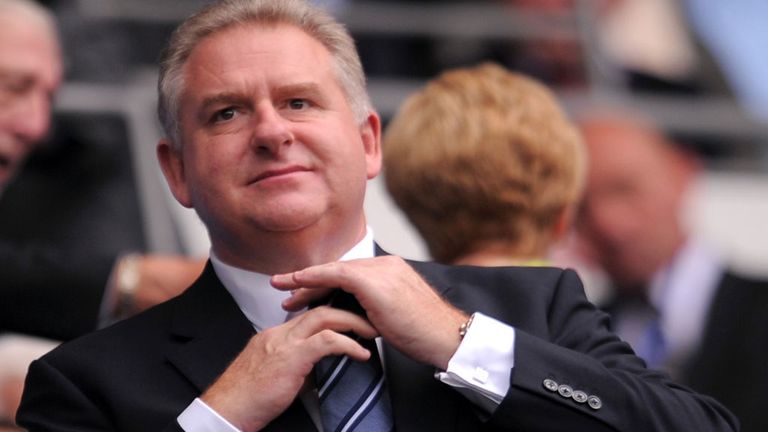 Wallace published his 120-day review last Friday when he claimed the League One champions had 'mismanaged almost all of their cash reserves' since their formation as a newco in 2012.
The review stated Rangers had raised £70m since May 2012 but by last December had just £3.5m left due to money being 'spent quickly and in some areas liberally, through decisions which were ill thought out, unstructured and poorly executed'.
But, in a response the Union of Fans group want chairman David Somers to suspend Wallace pending a police probe into allegations he misled shareholders over the club's financial position.
The group say they are "absolutely appalled" by Wallace's review and they also question the role of director Sandy Easdale.
Police Scotland confirmed at the weekend they were investigating a complaint from a Rangers shareholder that statements made by Wallace at the AGM on December 19 contravened the Companies Act.
Wallace, who was appointed in November, says the club had "sufficient cash to continue to trade in the short term" but loans totalling £1.5m were taken out in February.
The fans have criticised Wallace's review over his opinion that they need to raise up to £30m after around £70m was squandered in less than two years through "mismanagement".
They also called on Somers to respond to claims that payment processing company FirstData had first asked for security in order to continue offering credit facilities for season-ticket purchases back in January.
This follows Wallace's claim - in his review - that one of the major factors in the subsequent withdrawal of the facility was uncertainty over sales caused by the Union of Fans and former Ibrox director Dave King, who first mooted the idea of a season ticket trust fund in late February.
The statement, issued late on Sunday, reads: "Once again we have seen a Rangers board attempt to deflect the blame for their own incompetence onto fans who only want the best for the club.
"They have provided no evidence that they can raise the necessary funds to take the club forward and we have no confidence in them to do so.
"We note Mr Wallace's criticism of previous boards. James Easdale sat on the previous board from July of last year. Is he now going to be removed for his part in this financial mismanagement?"
With regards to Easdale, the fans group went on: "His public statements just prior to the review showed that he has access to information he should not."