Scottish Football: Rangers Chairman David Somers hits back at Dave King
Rangers Chairman David Somers has hit back at Dave King following suggestions the board should be investigated.
Last Updated: 29/04/14 7:37am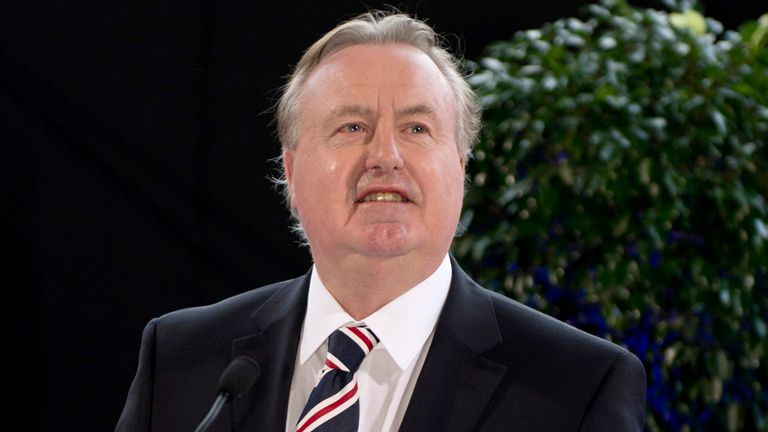 Police Scotland have confirmed they will investigate a complaint from a Rangers shareholder that Chief Executive Graham Wallace made misleading statements about the club's finances at December's AGM that may be in contravention of the Companies Act.
Wallace released his business review of the Glasgow club on Friday but King reacted angrily to it and questioned the assertion that Rangers had enough finances in place to last the season.
"It is seriously wrong for this board to state in the review that at the time of the AGM the board, and the CEO in particular, believed that there was sufficient cash to last until the end of the current season," said King.
"It is beyond doubt that the CEO and other board members (were) aware last December that there was insufficient cash. The CEO is now subject to a criminal complaint, but I believe that his comments were made with the full knowledge of the board.
"Certainly no one came out to contradict him. We should therefore expect any criminal investigation to extend to other board members."
Somers has hit back, however, issuing a statement defending the conduct of the board.
"Graham Wallace is working tirelessly and doing an excellent job in leading the rebuild of our football club by creating a Rangers our fans can be proud of," read his statement.
"He will continue to develop the club's long-term future plan which will return us to the top of Scottish football and competing in Europe.
"Any suggestions of inappropriate behaviour by him in relation to his duties as Chief Executive Officer are odious and unfounded. They will be defended with full rigour, if a substantiated complaint is ever put to him or Rangers.
"The history and facts have been explained in both the Interim Statement and the Business Review summary.
"Any media reports to the contrary are based on rumour and gossip which is damaging to the football club.
"If Mr King wishes to engage in constructive dialogue, then the door remains open. Regrettably however, he continues to make fictitious, inaccurate and misleading comments which are very unhelpful."