Scottish football: Rangers board urge fans to ignore launch of 'Ibrox 1972 Fund'
The Rangers board has reacted angrily to the launch of the 'Ibrox 1972 Fund' by Dave King and Richard Gough.
Last Updated: 06/05/14 7:58pm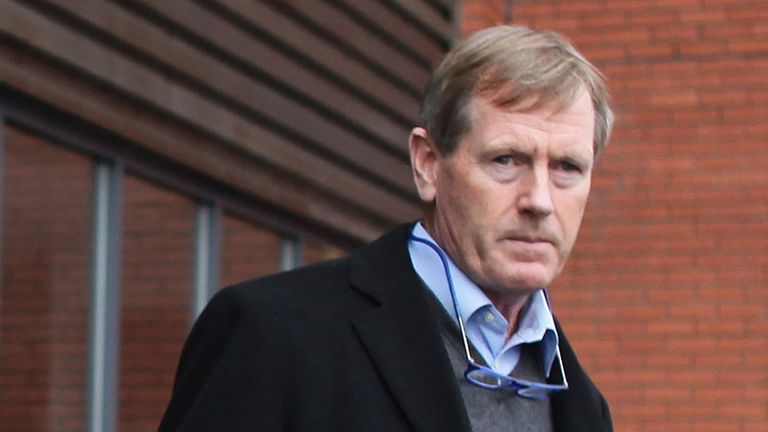 King, a former oldco Rangers director, and ex Gers skipper Richard Gough have asked supporters to donate their season ticket money to a fund which will be used to secure Ibrox's long-term future.
This scheme was created amid concerns that Rangers' stadium could be used for other purposes, due to the ongoing financial problems at the club.
But the board have dismissed these suggestions, branding the fund as a 'worthless academic exercise' and warned fans they risk losing their seats if they do not renew them before the May 16 deadline.
A statement read: "The Board of Rangers note with dismay the launch of the "Ibrox 1972 Fund" led by Dave King and Richard Gough.
"Attempting to create a fund that wishes to deprive revenue to the football club these men purport to love so much and create financial difficulty for Rangers, displays a twisted logic.
"For the avoidance of doubt and so that all Rangers fans are again reassured, the board has stated that it has no intention of granting security over Ibrox to anybody. We have already shown in our actions - and not words - that our stadium is sacrosanct.
"Any supporters considering engaging with Ibrox 1972 Ltd should be clear that as the club will not grant security over Ibrox to any such organisation, there is no prospect that any commitment to this new scheme will ever come to fruition and is therefore entirely meaningless. Nor will the board enter into any agreement with a third party organisation on season ticket renewals, as is being suggested.
"Therefore this scheme is a worthless academic exercise created to serve the purposes of individuals and not the greater good of Rangers football club. It could never deliver the stability and security this football club and our supporters deserve."
Rangers have urged fans to unify behind the team as Ally McCoist's men attempt another promotion in the Scottish Championship next season.
The loss of season ticket sales would place further strain on Rangers and Sandy Easdale, a major shareholder, warned last month the club is in a 'fragile' position.
"It is also important to note that should existing season ticket holders choose not to renew by the May 16 deadline, as is being encouraged, they could lose their seat allocation," the statement continued.
"The club believes it must - as it always does at this time of the year - attempt to satisfy the requests we have received from current season ticket holders who wish to relocate to other available seats around the stadium.
"We are only too aware that our incredibly loyal supporters have been through remarkably testing times in recent years, But Rangers has made significant progress in recent months, both on and off the field.
"A bright future awaits and we would respectfully ask our fans to support the club and renew their season tickets. Season ticket sales are the largest single source of income for Rangers and only the club and the team will suffer if some of this income is withheld.
"Any decision not to renew season tickets can only damage the club. Such action would only serve to harm the very institution that is so dear to all of us."
King's group, called the Union of Fans, have questioned the content of the statement.
A response read: "There is no attempt to deprive the club of funds. This is made very clear in the security proposal and the board's ham fisted attempt to misrepresent this is one of the few transparent things they have done since coming to power.
"No money will be taken from fans unless security is granted and we are of the opinion that the board's reluctance to discuss granting security may well rapidly change."
Meanwhile, former Rangers commercial director Imran Ahmad has been unsuccessful in his latest attempt to have £620,000 frozen in the club's account.
Ahmad claims he is owed £500,000 in unpaid bonuses and argued the uncertainty over season-ticket sales raised doubts over the club's ability to pay up if his action was successful.
However, at his appeal hearing at the Court of Session in Edinburgh, Lord Armstrong rejected his motion.