Scottish Championship: Rangers offer fans assurances over Ibrox future
Last Updated: 06/08/14 10:56am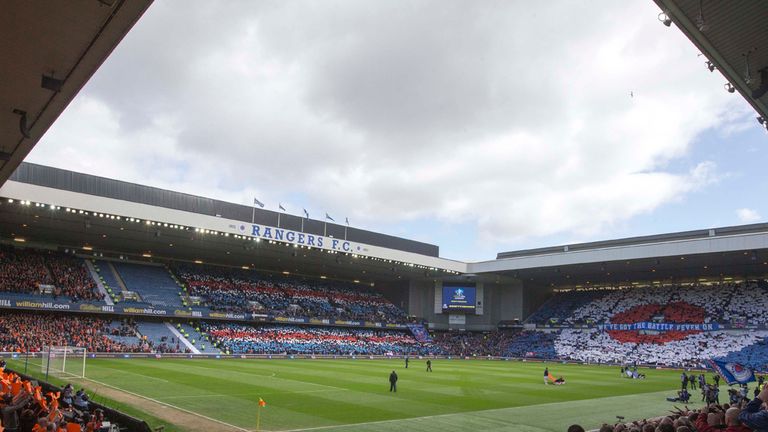 Rangers' board of directors has offered assurances to supporters over the future of the club's famous Ibrox home, insisting it will not sell or lease the stadium.
But a statement released on Sunday failed to make similar promises over the future of Murray Park, the club's training base in Auchenhowie.
Supporters' group Sons of Struth organised a march to Ibrox last weekend to demand protection for the stadium amid fears it would be sold to reduce debts or used as security on any future borrowings for a club 
A club statement read: "The board is happy to reaffirm its position, which has never been a matter of debate, by confirming once again that it will not enter into any form of sale, securitisation or leaseback of Ibrox Stadium.
Sky Sports Alerts
Breaking news, transfer gossip, line ups and goal alerts from your football club - delivered direct to your mobile.
Sign up for Sky Sports Alerts
"This has been and still remains the board's clear and consistent position on this subject as it continues to protect and enhance the assets of the club
"The board is committed to protecting the assets of the club for the benefit of all Rangers fans, and to adhering to the highest standards of corporate governance."
Rangers, who won promotion to the Scottish Championship last season, have already admitted fresh income will be required over the next year to meet running costs, with losses of nearly £70m announced for the first 18 months since the club was reformed after liquidation in 2012.
Some supporters have boycotted season tickets, but the statement appealed for unity as the club attempts to win promotion to the Scottish Premiership.
"Season ticket sales are continuing throughout the next few weeks ahead of the start of the season and we are grateful to the thousands of supporters who have already bought for the 2014/15 campaign," continued the statement.
"Events over the past few weeks have reminded everybody of the remarkably testing period our incredible supporters have been through in recent years and now is the time for us all to look forwards, together."