Scottish Championship: Richard Foster wants Rangers to put down a marker
Last Updated: 08/08/14 3:04pm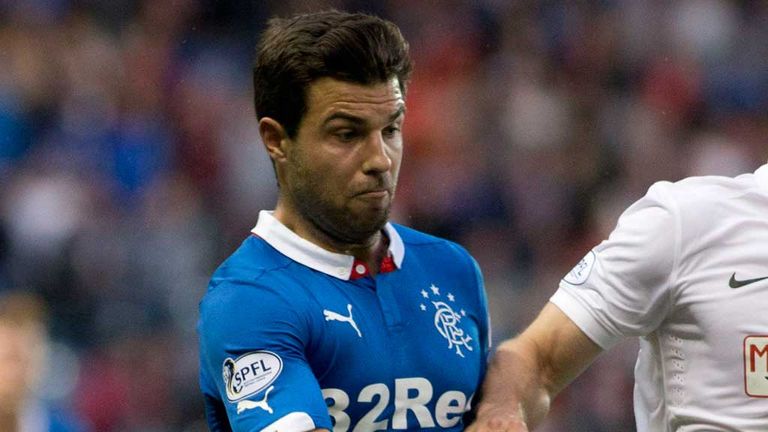 Rangers defender Richard Foster believes a victory over Hearts in the Championship opener at Ibrox on Sunday will set the tone for the rest of the season.
Scottish football's second tier is set to be highly competitive this season after Hibernian were also relegated alongside their Edinburgh rivals, and the Gers were promoted as League One champions.
Foster, 29, is aware of the importance of starting out the campaign with a win against one of their main rivals.
"It is going to be really exciting this year with the teams involved," he said.
"In any league campaign it is important to get off to a flying start, more so because Hearts will probably be up there at the end of the season, hopefully with us, fighting for the league.
"It will put down a marker if we can play well, win that game and get the season off to a good start."
Foster admits Rangers' remit is a simple one - to win the title - but stressed that no-one at Ibrox is taking that for granted.
"In any season for a club like Rangers the remit is to win the league," said the former Aberdeen and Bristol City player.
"That's what we have on our minds and that is what we will be focusing on.
"The play-off is not what we are thinking of.
"Right now we want to win the league and at a club like Rangers, and with the players we have in the dressing room, we are not here to come second and go up via the play-offs. We are here to win the league and go up automatically.
"No disrespect to the teams that we faced last season but the teams we face this season will pose a bigger threat and we will have to raise our game to come out on top.
"We have the boys in the dressing room to do that. But we don't have any right to think we are favourites for the league.
"We know we want to win the league but they (Hearts) will be thinking the same thing which is why the game on Sunday is a good test for both teams to see who is going to take that early advantage."
Watch Rangers v Hearts live on Sky Sports 1 at 1.30pm on Sunday.