Brown vows to rebuild
Craig Brown has vowed to rebuild Aberdeen and quickly in the wake of Sunday's Scottish Cup defeat.
Last Updated: 19/04/11 10:47am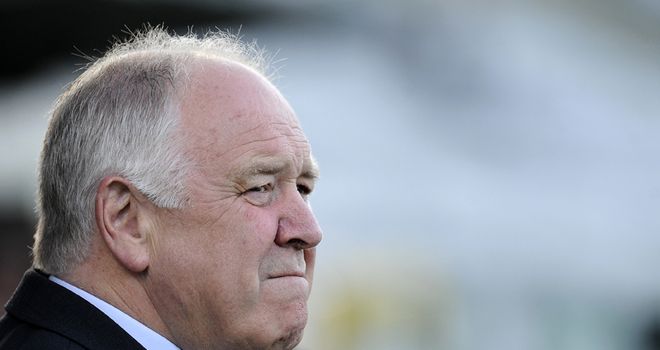 Aberdeen manager Craig Brown has vowed to rebuild his Pittodrie squad and quickly in the wake of Sunday's Scottish Cup defeat to Celtic.
The Dons had harboured hopes of a Cup upset at Hampden Park against Neil Lennon's title-challengers but they slumped to a 4-0 defeat, although their efforts were severely hampered by Andrew Considine's early dismissal.
A number of players' deals expire at the end of the season, although Brown has confirmed that he would like to sign Chris Maguire and Sone Aluko on fresh terms.
That means the likes of Zander Diamond, Rob Milsom, David McNamee, Jamie Langfield, Mark Howard and Derek Young face uncertain futures while on-loan Steven Smith, Nick Blackman and Nikola Vujadinovic are due to return to their parent clubs.
Brown will be setting deadlines for players to put pen to paper on new deals and should that date be missed then they will assume they will be leaving, in which case the club will scour the market for reinforcements.
Rebuild
"It's a huge rebuilding job but I will get it done and quickly," confirmed Brown.
"I hear managers asking fans to give them time to build a team but that's only an excuse. I know I don't have a lot of time to get the job done.
"There must be additions to the squad - maybe as many as six. I'd also like to secure Maguire and Aluko. If they leave, it will make the rebuilding task even tougher.
"We will be setting deadlines and if these are not met then it will be assumed players are leaving.
"I don't want to hang about - I must build a team as soon as possible if we want to keep the fans with us. The backing they gave us at Hampden, even at 4-0 down, was incredible.
"They deserve a side they can be proud of, not one that embarrasses them in big games. They should be going to semis expecting a win instead of just hoping for one.
"However, it would be harsh to lump this Cup defeat in with some of the ones which have gone before. The heads never went down at any stage and every player gave what he could.
"But it is clear that even the best from some of them won't be enough to give our fans what they deserve. Playing in semi-finals is a massive test and we need players who can cope with that challenge."
Surgery
Meanwhile, the club's top goalscorer Scott Vernon has confirmed his season is now over after deciding to go under the knife to resolve a hernia problem.
The 27-year-old has been soldering on with the hope of helping the Dons reach the Scottish Cup final, however, he will have the operation following Sunday's defeat.
"My season is over," confirmed Vernon.
"The injury has been troubling me for a while but I wanted to keep going to try and get to the Cup final.
"If we had beaten Celtic I would not even be thinking of surgery.
"But now I have to be a little selfish and go for the operation to get myself right for next season."