Aberdeen goalkeeper Jason Brown called for Kick It Out to step aside to let a new organisation combat racism
Aberdeen's Jason Brown insists the PFA and Kick It Out need to step aside and let a new organisation combat racism.
Last Updated: 31/10/12 9:00pm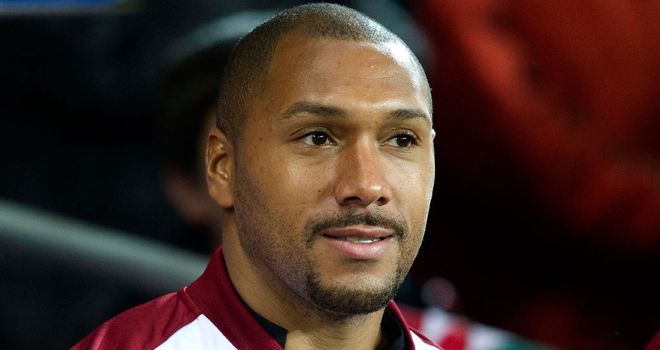 A number of high-profile players, including Rio and Anton Ferdinand and Jason Roberts refused to back the recent Kick It Out campaign, choosing not to wear the organisation's t-shirts.
Brown believes footballers took this stance to raise awareness about racism in the game as they feel not enough is being done to stamp out the problem.
The PFA have tried to ease these concerns by announcing a new six-point plan to tackle the problem, but Brown says a younger generation is better equipped to address the modern issues.
He told Sky Sports News: "I think if you look what happened in recent weeks with the likes of Jason, Anton and Rio, one or two high-profile players refused to wear the t-shirts.
"That's probably put Kick It Out in the spotlight more so than anything else that's been done, which is quite a shame really.
"People have trusted these organisations to speak out on our behalf and you just look at the incidents that keep happening. People are now saying enough is enough.
"We have trusted these people to speak out on our behalf and we're trusting these people to lay down the law, and they are not doing that."
When asked out the six-point plan, Brown said: "The PFA, they've been going for these negotiations for the last year now. Coming back to being pro-active and reactive, they are just showing it's a reaction.
"I think is shows we need younger people to maybe push this forward. They've done tremendous work, the PFA and Kick It Out, but I just think they need to pass the buck onto a younger generation who are more relative and up to date with things that can take this on and fight it for them."
PFA Trustee Paul Elliott admits the organisation is poorly funded but feels it can still play a crucial role for years to come, despite the protests from players.
"They wanted to make a point, they wanted to make a statement, there was no direct intentions to Kick It Out," he said. "Obviously there has been collective criticism about how they feel about Kick It Out.
"But it's about understanding what Kick It Out does. They've got no statutory powers, it's underfunded, it's a charity, it's an anti-discrimination organisation.
"I think what Kick It Out needs to do, and we are in that process, is to collectively get round the table and recognise these 21st century challenges, listen to those players, they've got to be part of the discussion and decision making process."
PFA chairman Clarke Carlisle has called on players and existing organisations to tackle racism together and without breakaway groups.
"It's vital that we do have individual voices, that we do have people who are willing to stand up and voice their opinion, but they voice their opinions within the group so we can change from within," said Carlisle.
"We can only fight these battles together."