Scottish Premiership: Aberdeen boss Derek McInnes reckons his side were robbed in the defeat to Motherwell
Aberdeen boss Derek McInnes felt his side were robbed in the 1-0 defeat to Motherwell at Pittodrie.
Last Updated: 12/05/14 6:43am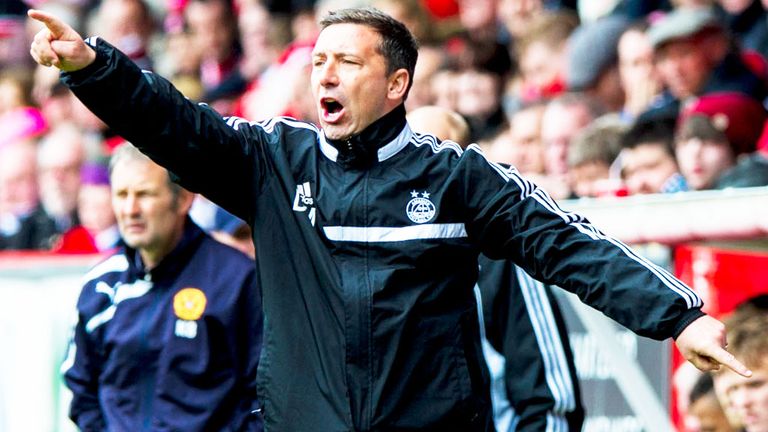 But Reid scrambled home with seconds left of the minute's added time after Keith Lasley's free-kick from just inside his own half sparked chaos in the Dons box.
McInnes reckoned John Sutton barged Jamie Langfield with his arm as the Dons goalkeeper came out to catch it and the ball bounced off the bar before Reid followed up after Mark Reynolds had blocked Fraser Kerr's shot on the line with his hand.
The Dons manager congratulated Motherwell but blamed referee Steven McLean for a defeat which was worth £240,000 in prize money and an extra two weeks' break before Europa League duties begin.
McInnes said: "There were a couple of mistakes I feel from the officials that led to it. I think he was right to call the foul back, because he had tried to play on. I've no complaints about that.
"It may well seem a small thing, but in the context of what happened, it's a big thing - there was a considerable distance from where the foul was committed and where it was taken.
"And then there is a foul on Jamie Langfield. I've seen it several times and Sutton barges into him and doesn't get any connection on the ball and takes Jamie Langfield out, and they have scored on the back of it. It's a decision we feel has cost us the game.
"But I need to say congratulations to Motherwell because over the course of the season they have done well. I don't want to sound as if it's sour grapes because I have to recognise the effort from them."
Motherwell counterpart Stuart McCall felt his team deserved their fortune after they were on the end of some contentious decisions against Aberdeen earlier in the season.
He pointed to decisions involving Sutton in a League Cup match and a Russell Anderson goal at Fir Park in January when he threw himself at Jack Leitch's clearance on the line.
McCall said: "I'll be honest, I've only seen it once and not from a good angle, and it's possibly a free-kick but whatever we've got today, Sutty's goal a yard onside in the League Cup would have made a massive difference, the goal Russell Anderson scored in the last kick of the game at Fir Park, when he forearm-smashes it over and takes Leitchy out on the line.
"They say swings and roundabouts, and it evens itself out, and whatever we got here we more than merited it."