Hoops of no interest to Kello
Marian Kello may have been frozen out of the picture at Hearts, but he insists he has no desire to secure a switch to SPL leaders Celtic.
Last Updated: 08/02/12 11:50am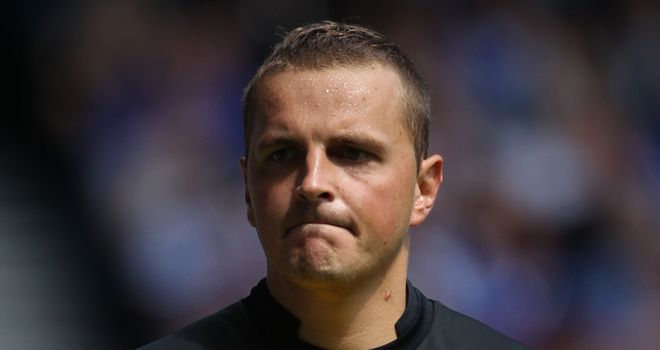 Marian Kello may have been frozen out of the picture at Hearts, but he insists he has no desire to secure a switch to SPL leaders Celtic.
The Slovakian keeper is among those currently paying the price of financial upheaval at Tynecastle, with Hearts revealing that a 'political' issue is preventing them from fielding the shot-stopper.
Having snubbed the opportunity to join Austria Vienna during the winter transfer window, club owner Vladimir Romanov informed Kello that he would no longer be considered for selection.
Having been forced onto the sidelines, it was expected that the 29-year-old would look to secure a move away from the Edinburgh-based side.
A switch to Celtic has been touted, but Kello says he has no desire to swap life in the wilderness at Hearts for life on the bench at Parkhead.
Honest
At an impromptu press conference called on Tuesday, he said: "Would I go to Celtic? No. And you know why? Because it looks like I would sit there on the bench in the Scottish League and there's no point in that.
"If you have a 50-50 chance to play, you try it. However, there is no chance to play there because the manager likes someone else and that is the point you must consider."
Kello claims that an ideal scenario would see him drafted back into the fold at Hearts, with it having never been his intention to isolate himself and fuel speculation regarding his commitment to the cause.
He added: "I've tried to be honest and tried to fight for the club in every game. But they're trying to pull me down all the time. I'm reading in the papers that I am not committed to the club. I'm here to tell you that is nonsense. I was not offered a new contract.
"I want to play for Hearts. They said they don't want me next season because they have a money problem and are going with youngsters. We have two young keepers and I've been told I don't figure in the future.
No Contact
"It looks like I don't want to be here but if I have a chance to play I will. Why? Because this is the club that gave me a chance to improve and get into my national team."
Meanwhile Celtic boss Neil Lennon was reluctant to discuss the matter but insists he has never been in contact with Kello.
"The window is shut and there is not a story there really," he said. "I'm very happy with the three goalkeepers that I've got.
"You are always looking to strengthen but I can't do anything until the summer and, until then, I'm not going to talk about any other player.
"I've had no contact with him and I've had no contact with Hearts regarding the player and I've had no contact with his agent either."