Hearts receive winding-up order over tax bill of £450,000
Hearts have received a winding-up order over a tax bill of almost £450,000.
Last Updated: 07/11/12 5:03pm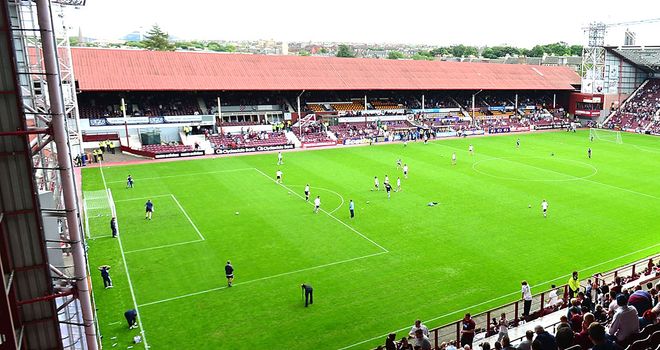 The order was issued last Thursday - and as of Tuesday 6 November, the club has eight days to respond.
The SPL club are understood to be negotiating a payment plan with the relevant authorities.
This issue is unrelated to a £1.75m HMRC bill which Hearts are challenging at a tax tribunal.
A club spokesman sought to assuage fans fears, saying: "We have guaranteed future revenues from forthcoming games and related broadcast income as well as additional guaranteed transfer income which will more than cover the outstanding amount stated in this petition.
"We would therefore be hopeful that HMRC will accept that winding up the club would be totally unnecessary.
"The club is revealing the petition as it wants to continue being transparent in all its dealings with supporters and potential investors."
Hearts launched a £1.79million share issue two weeks ago but the prospectus revealed another tax dispute.
HMRC has claimed unpaid tax liabilities in the region of £1.75million relating to loan agreements for a number of players who joined Hearts from Lithuanian club Kaunas, who were then run by Vladimir Romanov, the Tynecastle club's majority shareholder since 2005.
Hearts claim the situation was no different to other loan agreements when parent clubs pay some or all of the wages, and will contest the bill at a tribunal this month.
The winding-up order is not the first to be issued to Hearts by HMRC.
The club announced in February they had paid an outstanding tax bill after being given eight days to pay or face being wound up.
Last year, Hearts were forced to pay a bill in the region of £500,000 to defeat a similar order, while others were served in 2009 and 2010.
The club have faced growing problems meeting wage bills in the last 12 months and are currently under a Scottish Premier League transfer embargo following consecutive late monthly payments to some players and coaches.
The club reduced its wage bill significantly in the summer with a number of experienced players such as Ian Black, Stephen Elliott and David Obua moving on and only one player, Ryan Stevenson, coming in.