Hearts manager John McGlynn has urged the fans to help save the club
Hearts manager John McGlynn has added his voice to the plea for supporters to help the club in its "hour of need".
Last Updated: 09/11/12 9:00am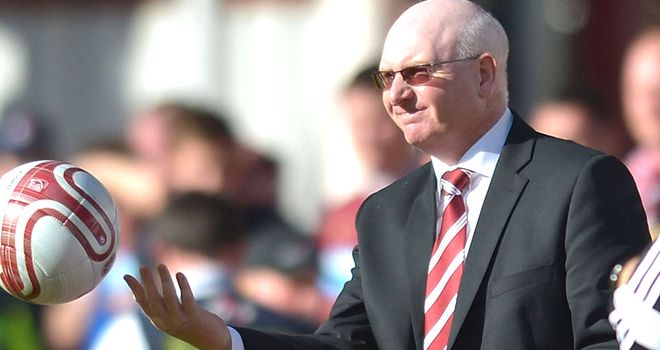 The Scottish Cup holders were this week issued with a winding up order by Her Majesty's Revenue and Customs over a tax bill of almost £450,000.
Hearts bosses have admitted next week's game against St Mirren could be their last if fans do not help them come up with the cash.
The Edinburgh club are attempting to negotiate a payment plan with HMRC over the matter and have asked fans to buy tickets for forthcoming home matches and invest in a recently-launched share issue.
McGlynn said: "It is a serious situation, there is no doubt about that.
"The statement the club put out is telling everyone that it's not a bluff and that possibly St Mirren could be the last game.
"It's an alarming, critical situation that we find ourselves in.
"It's certainly one where everyone has really got to get together, stand up and be counted, and really try to get the football club through this in its hour of need."
Hearts last night reported an "encouraging response" from supporters following their plea for emergency backing.
In a statement on the club's official website, director Sergejus Fedotovas said: "The demand for the tickets for St Mirren has picked up and the priority is to sell this game out as well as Celtic and Aberdeen.
"There has also been a lot of business done in the shares department, which again is great to see.
"But make no mistake, these are extremely tough times for everyone associated with this famous football club and only with the help of the supporters, the lifeblood of the club, will we be able to come through them."
Hearts have struggled to meet wage bills in the last 12 months and are under an SPL transfer embargo following consecutive late monthly payments to some players and coaches.
McGlynn says he would voluntarily delay his wages - and believes his players could follow suit - if the move helped Hearts survive.
He said: "It's not been mentioned yet. We are basically taking it a day at a time and seeing how things go.
"If it did come to that, it has happened recently anyway, and I don't see that being a massive problem to be honest.
"Certainly I would be in favour of delaying if that was going to help.
"I think the players would do anything that is going to help for the long-term benefit of the club."
McGlynn quit Raith Rovers to take over the Tynecastle hotseat in June and has no regrets about the decision despite the club's problems.
He said: "Not at all. I could not turn the job down.
"If I pop my clogs tomorrow, then I will go as someone who has managed Heart of Midlothian Football Club. There's not many people who can say that.
"I'm very proud to manage Hearts. I wish it wasn't in this situation but I would never regret taking the job."