Hearts have come together in crisis, says defender Danny Grainger
Hearts defender Danny Grainger believes the financial crisis at Tynecastle has helped to bring everyone together.
Last Updated: 18/11/12 1:58pm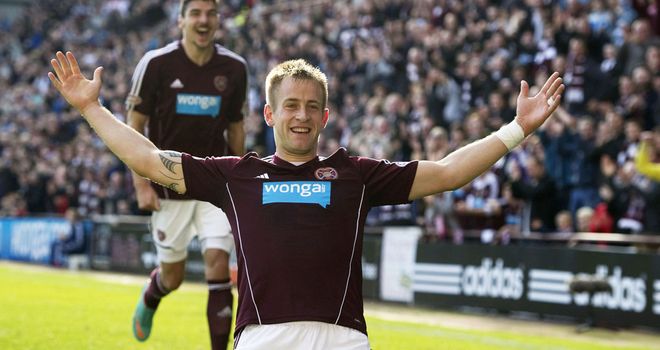 Fans have so far raised £500,000 through a share issue as the Edinburgh club look to raise funds after being issued with a winding-up order over a tax bill of nearly £450,000.
Agreement has now been reached with Her Majesty's Revenue and Customs to extend the deadline for payment to 3 December and Grainger, who scored the winner in their 1-0 victory over St Mirren, was keen to remain positive in difficult times.
"The boys just want to do as much as they can whenever they play to show we're at Hearts for a reason. We wanted to show in this game it means more to us than just walking out onto the pitch," he said.
"It's a big thing to us to play for a club like Hearts and we appreciate what the supporters have done for the club.
"As players we've deferred our wages but the fans have really dug deep. We had kids handing in their piggy banks earlier in the week.
"Things like that have brought us all closer together because we know what this club means to people. It's amazing to see what's gone on to help keep this club alive.
"The only way we could show our appreciation was going out and getting three points."
Hearts initially feared the game with St Mirren might be the last in their 138-year history and Grainger admitted there was some concern in the camp.
"When the statement came out it came as a bit of a shock. When you sign for Hearts you know the club isn't in a great financial way," added Grainger.
"Once you become involved here you don't think it's as bad as people make out. But then when you read it in black and white that the club may only have 10 days to survive, it really does hit home that things have to change.
"At the moment things can't change as rapidly as we'd hope them to. But we needed to stick together and that's what we've done."