SPL club Hearts settle tax bill to improve their hopes of survival
Scottish Premier League club Hearts have paid up their outstanding tax bill to help improve their hopes of survival.
Last Updated: 03/12/12 8:48pm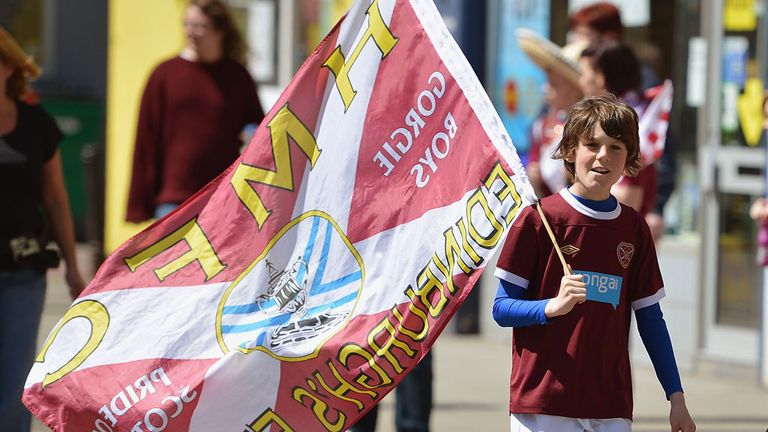 A winding-up order had been threatened over a £450,000 bill but the club agreed a deal to pay off Her Majesty's Revenue and Customs in two instalments before the end of Monday.
The demand was settled after supporters pulled together following a plea for "emergency backing".
First-team players had agreed to hold off receiving their November salaries and a group of ex-Hearts players set up a fighting fund.
A Hearts Youth Development Committee statement on the club's website read: "HYDC are very aware and grateful that many supporters, groups and Hearts FC have been raising monies to purchase shares and then donating them to HYDC to look after on their behalf.
"Until the share issue closes on 19 December, we are unable to thank all the people who entrusted us with the responsibility of looking after these shares.
"Suffice to say, that this is a responsibility that we will take very seriously and will always act in a way that is best for the future of Heart of Midlothian Football Club.
"The response from supporters has been tremendous, but HYDC would ask supporters to keep supporting the club in any way they can whether it be by attending matches, buying Hearts merchandise or supporting the share issue."
Hearts have raised over £600,000 from a share issue and were close to selling out Tynecastle for home games against St Mirren and Celtic after warning they might cease to exist by the end of November.
The imminent threat has been put off but but there is still a shortfall in revenue for the season that totals £2m, while a separate £1.75m tax bill, which the club are challenging in a tribunal, also hangs over Tynecastle.
That bill centres on a demand for tax for a number players who joined the club on loan from Kaunas, who were also owned by Hearts majority shareholder Vladimir Romanov.