Hearts looking to recruit youngsters from English Premier League
Hearts manager John McGlynn will move for young talent from England after the SPL lifted the club's transfer embargo.
Last Updated: 17/01/13 6:39pm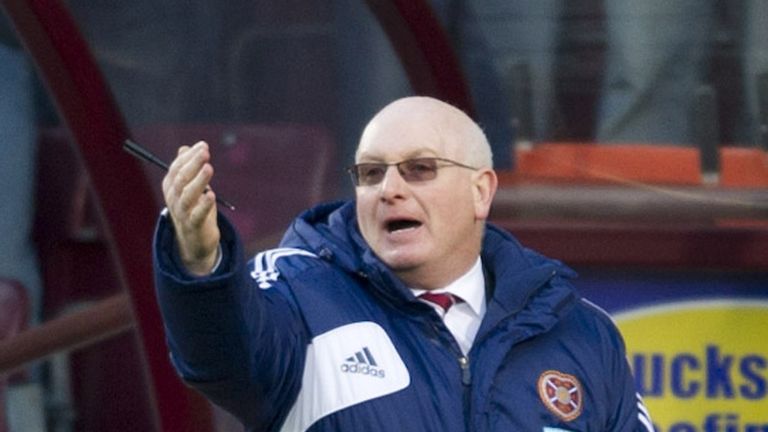 The SPL acted after Hearts paid their players on time on Wednesday and were satisfied by information from the club that a "remuneration default" had ended.
But restrictions on who Hearts can sign remain in place until the end of the season. McGlynn can only bring in players who are aged under 21 under SPL rules and can only sign them on a one-in, one-out basis and on less money than those departing.
Hearts have scope to bring two players in after Peter Enckelman was recently released following back-up goalkeeper Mark Ridgers' return to fitness, and Ryan McGowan was sold to Chinese side Shandong Luneng.
And McGlynn has been preparing for the scenario by scouting young players in England.
Speaking to Hearts TV after the embargo was lifted, McGlynn said: "It's good news obviously, it helps. We have lost a couple of players now and we have a few injuries and suspensions so it might come in handy that the transfer ban has been lifted.
"It's still very restrictive. We have four players in the Scotland Under-21s so where are we going to get better players to come in?
"You are really looking down to the English market and players who are not playing at their clubs down there who you are going to take a chance on.
"Although the transfer embargo has been lifted, it's not as if there are players who are hanging off the edge of trees who can just come in and hit the ground running."
But McGlynn and his director of football have been doing their homework by taking in games involving youngsters from the likes of West Ham and Arsenal.
"John Murray has been down every weekend since the under-21 league in England started, and I have been down the majority of Monday nights," he said.
"So for a number of weeks we have been watching games and trying to cover all the teams.
"We have been managing to see right across the board at the English clubs and we'll just need to see if there's anything we can work out.
"It's not easy because these are generally players who are not playing in their first teams.
"Some of these players are not getting a game because their teams are spending millions of pounds, so you could knock it off and get really good young talent.
"But at the same time it's still a test to play in the SPL in a first-team game."
The transfer embargo automatically kicked in during September when players and coaches were paid several days late. Some payments were late in October and players deferred their November wages as Hearts raised money to meet a tax bill that threatened to close them down.
December wages were paid early but the registration embargo was extended due to a failure to pay bonus and appearance money.
Meanwhile, McGlynn faces a selection headache for Saturday's Clydesdale Bank Premier League clash at Celtic Park, with Ryan Stevenson and captain Marius Zaliukas suspended. Scott Robinson is out with the knock he suffered against Hibernian on January 3 while fellow midfielder Mehdi Taouil is struggling with a foot injury.
"It will probably be one of the youngest Hearts teams that's ever been put out," McGlynn said.