Hearts to discover fate on Monday when SPL board meet to discuss sanctions
Hearts will discover their fate on Monday when the SPL board meet to discuss the collapse of their majority shareholder.
Last Updated: 17/05/13 6:47pm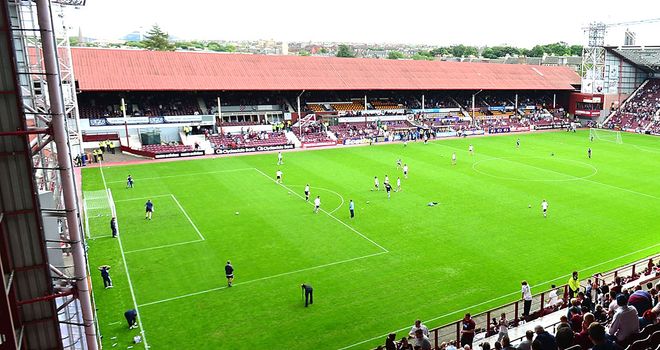 The Lithuanian firm was listed on a government website of insolvent firms on Thursday, after reportedly declaring itself 'unable to meet its liabilities'.
And although Hearts are no longer reliant on the company for external funding, they do owe it £10m, and under SPL rules the insolvency of club owners can lead to a points deduction.
The SPL declined to comment on the matter, but are understood to be consulting with lawyers and will meet to discuss sanctions on Monday.
If deemed to breach insolvency rules before Sunday's final game of the season, Hearts would be deducted a third of last season's points - 18 - which would see them relegated to the First Division.
However, court action is needed to trigger an insolvency event in Scotland and the lack of news about any court proceedings in Lithuania could work in Hearts' favour.
Cost-cutting measures continued at Tynecastle with a number of youngsters being released by the club, including 19-year-old right-back Fraser Mullen.
And Hearts midfielder Jason Holt, who made the most of the financial strains to grab a first-team slot, said: "It's disappointing as Fraser is a good mate of mine. We came through the youth team together but it's not my decision, that's down to the club.
"I spoke to him the day he found out. It's one of those ones that he just needs time to take it in. He's a good lad and I'm sure he will not be short of offers.
"He's a good player so I hope he does go on to bigger and better things once he's fit again from his injury."
The club could yet put even more focus on their younger recruits amid fresh concerns that developments in Lithuania could force the club into administration.
But Holt knows such a crisis could yet open the door for other youngsters, he added: "It's been a massive season for us young lads coming through. We knew that for a lot of us it would be a chance for us to make the breakthrough.
"I've grown up a lot this year. Everyone will tell you that when you move into first-team football that happens. You are dealing with older people and the experience aspect comes into it. There is a lot of pressure on your shoulders and you have to deal with it."