Hearts are on the verge of entering administration
Stricken Scottish Premier League club Hearts have signalled their intention to go into administration.
Last Updated: 19/06/13 2:16pm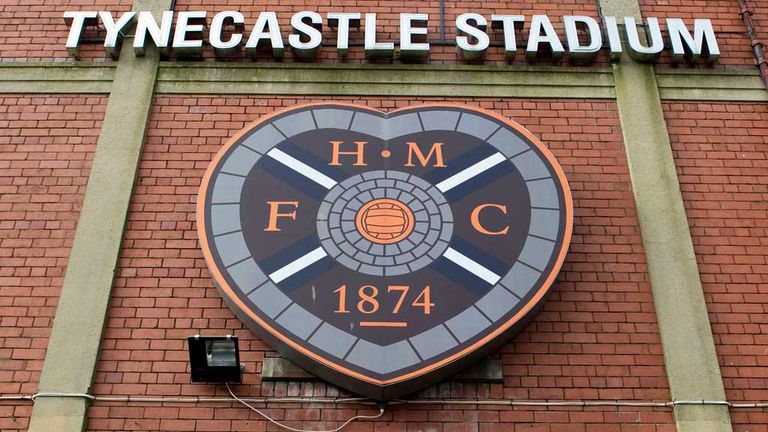 The Tynecastle club are in the process of lodging papers at the Court of Session in Edinburgh and have approached accountancy firm KPMG to act as their administrators.
A club spokesman said: "We are not in administration yet but we have served our intention to appoint administrators."
Hearts were faced with a winding-up order last week after Her Majesty's Revenue and Customs threatened action over an unpaid £100,000 tax bill - although the majority of that sum has been paid.
And the entire playing staff has also been placed on the transfer list as Hearts look to make further cuts to try and save money.
Hearts were also hit with an immediate transfer embargo by the Scottish Premier League last Friday after admitting they could not afford to pay their players.
The news came just 24 hours after the Gorgie board released a statement saying they had entered a "critical" stage in their battle to pay off debts of £25million as well as financing tax and running costs.
The situation at the two Lithuanian companies which hold large stakes in the club has also raised fears for the future of the Edinburgh club.
Majority shareholder UBIG - which owns a 50 per cent stake in the club - and 29.9 per cent shareholder Ukio Bankas were both once controlled by Vladimir Romanov but are now in the midst of being declared insolvent by Kaunas-based authorities.
Ukio Bankas - which lost an appeal against liquidation last Wednesday - is due £15million by Hearts, who also owe another £10million to UBIG.
Politician Ian Murray is leading the Foundation of Hearts supporters' group who hope to buy the club, with a formal bid expected to be lodged by the end of the month. There is also interest from a number of other parties, including a Scandinavian consortium.
The club are now likely to face a 15-point penalty when the new SPL season kicks off on Saturday, August 3.
Top-flight rules state any club suffering an insolvency event will be stripped of 10 points or a third of their previous season's tally, whichever is the greater.
Hearts finished the 2012/13 campaign in 10th place with 45 points.