Scottish Football: Hearts captain Danny Wilson determined to avoid relegation
Danny Wilson has called on his Hearts team-mates to stave off relegation next season and become Tynecastle heroes.
Last Updated: 05/07/13 3:34pm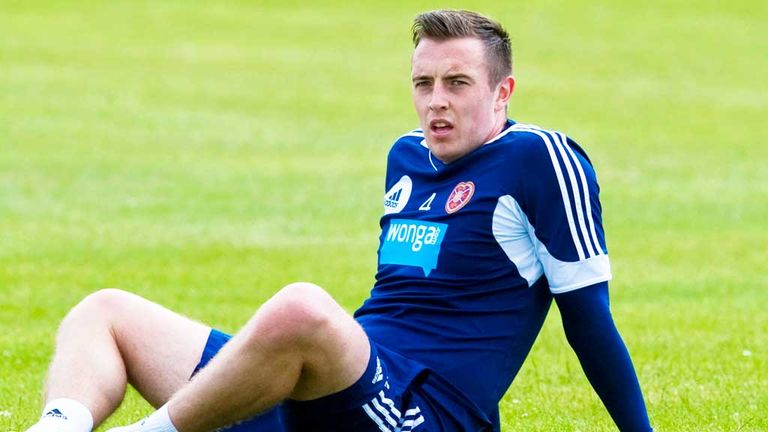 The Jambos entered administration last month, which carries a 15-point deduction and a registration embargo with further possible sanctions to follow.
A whole team of players have left the club and Wilson, who has been appointed captain for the forthcoming campaign, believes surviving in the top flight would ensure their places in the club's folklore.
"I think it would be the biggest achievement in the club's history if we were able to overturn this," said the Scotland defender.
"We are young and it is going to be difficult but we have the chance to make ourselves heroes at this club and that's what you want as a footballer.
"You would rather be going for cups and titles, obviously, but this would be just as big.
"It is a great opportunity for all the young boys. They will be playing every week and, at their age, that doesn't happen in many teams.
"This is a massive club and, if they can do well this season, they can become heroes at a very young age.
"We have to have the mentality that everyone is against us and we are going to go out there and prove everybody wrong. It is the only way we can approach every game.
"We have nothing to lose this season - we are already 15 points down."
Wilson resisted the temptation to join the Tynecastle exodus, agreeing a three-year deal with the club following a loan move from Liverpool last season.
A loophole allowed him to get around the consequent signing embargo imposed but, along with several other players, he took a wage cut to stay at the club.
Asked if it might have been better to go somewhere more stable, Wilson replied: "People have said that to me and I had other offers but I made the commitment about a month and half ago to stay here and I made a lot of changes in my life for that.
"I had bought a house and was settled and didn't want to uproot again. Obviously, I took a wage cut to stay and was more than happy to do so to help in any way I could.
"I had been really happy here for six months and I get on so well with the manager and the boys at the club. So you don't just trade that for a bit of uncertainty.
"I'm here for the long haul and hopefully we can come through this better."
And Wilson is "really proud" to be the new Gorgie skipper.
He said: "If it was a few years ago, when there were more senior players it wouldn't have happened, but the gaffer has given me the honour of being captain.
"But even if anyone else had been given the captaincy, we all need to show more leadership this season."