Scottish Premiership: Hearts injury problems deepen ahead of Celtic trip
Hearts could have just 10 "outfield professionals" available for their Scottish Premiership clash against Celtic.
Last Updated: 21/12/13 11:36am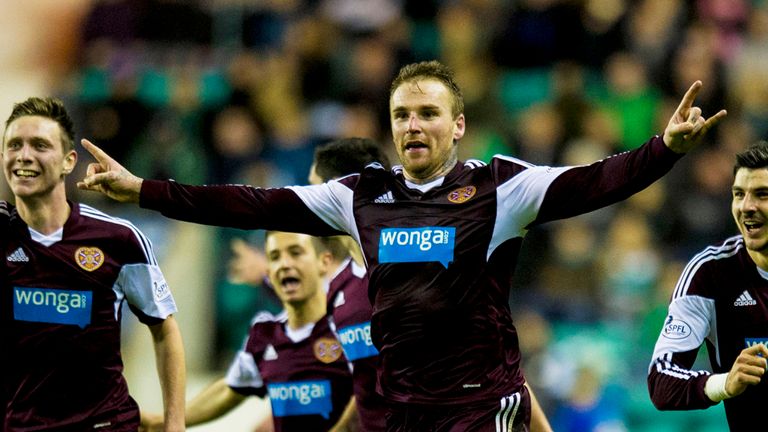 The administration-hit club - docked 15 points and barred from signing new players - have lost striker Gary Oliver to a leg injury and he joins Ryan Stevenson (hamstring), back-up goalkeeper Mark Ridgers (knee) and midfielder Jason Holt (foot) on the sidelines.
Midfielders Jamie Walker and Scott Robinson are rated doubtful and manager Gary Locke will have to delve further into his youth squad to make up a bench if they do not make the game.
Brown said: "We try not to make excuses and we haven't done all season but things are getting close to the bone.
"Stevenson, Holt and Oliver are out. Jamie Walker will train and we will see how he is, Scott Robinson is doubtful and we don't know if he will train or not. So it is getting tight.
"Lads who have been involved are still part of the ground staff here, people like Sam Nicholson who played last week, Dale Carrick and boys like Adam King, who is very much in contention for Saturday.
"Liam Smith and the laddie (Angus) Beith were at school last year. But what else can we do?
"Danny Wilson has shin splints, they are pretty sore but he is soldiering on manfully. Danny is our veteran at 21.
"I have never been involved in a situation like this but who has? Hearts had to be punished and my God they have been punished.
"This was always liable to happen. I think we have been lucky with injuries in the early part of the season and there was always going to be a time when this was going to kick in.
"We just have to get on with it and do the best we can. The players have done their very best and very rarely have their heads dropped and we can't ask for any more."
Hearts lost 7-0 to Celtic in their Scottish Cup clash at Tynecastle on December 1.