SPFL: Manager Gary Locke continues to look to youngsters to fill Hearts' bench
Gary Locke will continue to use Hearts youth players to fill his bench after failing to have a transfer embargo lifted.
Last Updated: 09/01/14 5:10pm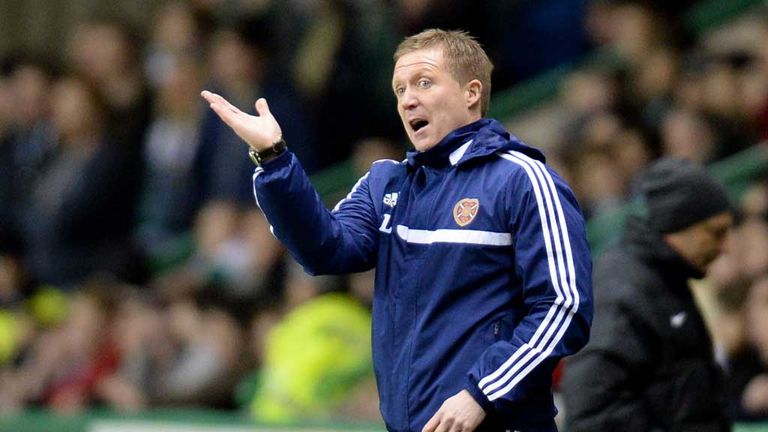 The Scottish Premiership's bottom side had appealed to the Scottish Football Association to lift the sanction after a number of injuries left them on minus two points with over half of the season's fixtures played.
Hearts were docked 15 points at the start of the season for entering administration last June with reported debts in excess of £28million.
Sunday's home defeat to Partick Thistle saw them drop 19 points behind second-bottom Ross County and Tynecastle boss Locke sees no let-up in his struggle to field a team.
With captain Danny Wilson (tonsilitis), Gary Oliver (ankle), Kevin McHattie (leg) and Callum Tapping (stomach bug) all struggling, the former club captain's options continue to be limited.
"Over the last couple of games, we have been unable to field enough people on the substitutes' bench," he said.
"I have spoken to the physio this morning and the injury list is getting longer. We are genuinely going to have to field a couple of 16-year-old kids very shortly
"But, quite rightly, we are getting punished at the moment due to the way the club has been run so I don't know what will come of that.
"Obviously Bryan (Jackson, of administrators BDO) is dealing with that so we will just have to wait and see what happens."
Jackson is planning a second appeal on the grounds that Hearts' youngsters are being asked to play too many games which could have a detrimental effect on their development.
The administrator will cite a possible threat to their 'health and safety' and Locke admits he has been concerned for their welfare for some time.
"I haven't hidden that fact from day one of the season," he said. "I am really concerned about it.
"You worry about burn-out and want to give them a rest at the right time but it is very difficult. I know how a long, hard season can take it out of you when you are young, but unfortunately I can't do that with the majority of them."