SPFL chief executive clears up the signing situation at Hearts
Scottish Professional Football League chief executive Neil Doncaster claims Hearts may be able to adjust their squad.
Last Updated: 13/01/14 8:55pm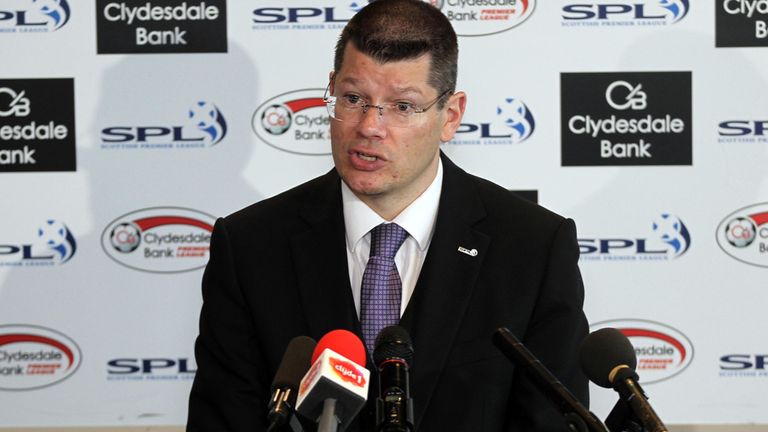 Hearts were placed in administration in June 2013, a development that resulted in a transfer embargo and the deduction of 15 points prior to the Scottish Premiership season starting.
Manager Gary Locke has been operating with a stretched squad in recent weeks because of injuries and suspension, and Hearts were hoping for a dispensation on the signing embargo.
Doncaster is adamant the embargo will remain in place until Hearts exit administration, but he insists the club can register new players on the one in, one out policy which applied to the signing of defender Danny Wilson in June last year.
"Hearts can bring forward an application to register an individual player," Doncaster said.
"And to do so, simply need to let us see the contract and to make it clear which player they are replacing, as they did with Danny Wilson last summer."
Hearts enjoyed a brief period of glory, winning the Scottish Cup twice and finishing second in the league under previous owner Vladimir Romanov.
But the excesses of Romanov's eight-year tenure at Tynecastle have caught up with the club, who still face the threat of liquidation.
Doncaster added: "I think there is a huge sympathy for the position that the Hearts players, Hearts supporters, and indeed the administrators, that they all find themselves in.
"It's not their fault that they are in the position that they are in at the moment, but they are in that position because of decisions that were made by others that are no longer around.
"And ultimately they are in that position and the rules are very clear about how clubs in administration are to be dealt with."