Scottish football: Manager Gary Locke admits concern over Hearts future
Last Updated: 04/04/14 2:04pm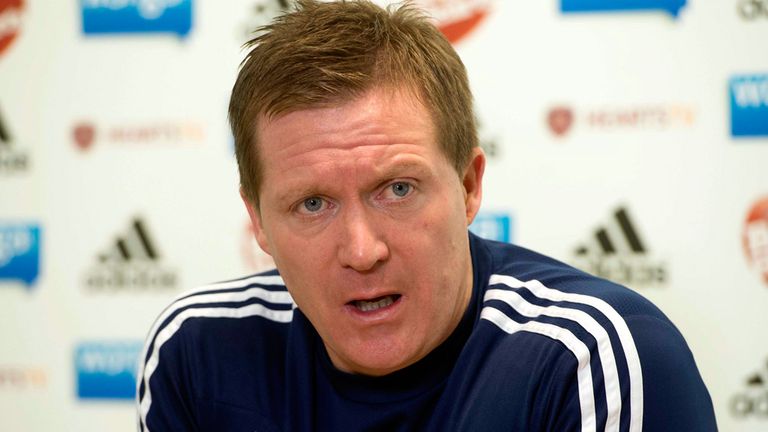 Gary Locke is praying creditors of Hearts' failed owners 'see sense' and do not kill off the administration-hit club.
The Tynecastle manager is keeping his fingers crossed that a £2.5million rescue package being funded by Edinburgh businesswoman Ann Budge is given the green light at a crucial meeting in Lithuania on Monday.
Administrators hope to complete a deal to hand majority shareholders UBIG and Ukio Bankas' 80 per cent stake to fans group the Foundation of Hearts but need blessing from the creditors of the two Kaunas-based firms.
There were fears that Sualiu Bank - owed money by UBIG - were unhappy with the terms of the FoH offer, sparking speculation Hearts could be liquidated before the season is out.
But Ukio's bankruptcy administrator Gintaras Adomonis told the Scottish Daily Mail that the share transfer "should be approved" on Monday.
Now Locke hopes his words prove correct.
He said: "We will have a few sleepless nights before Monday. It is our biggest battle yet. We're all praying that there's a positive outcome.
"I'm not sure if the people in Lithuania pay any attention to the Scottish media but I am speaking on behalf of everyone at Hearts when I say that I just hope they see sense and make a positive decision.
"Then we can all get on with our lives and try to make Heart of Midlothian a top football club in Scotland."
Before Hearts even get to Monday's meeting, their football fate could be decided on Saturday.
Having twice staved off confirmation of their relegation from the Scottish Premiership, they now face a trip to Partick where failure to win will send Locke's men down to the Championship.
A point for St Mirren at home to Motherwell will also be enough to end their 31-year run in the top flight.
Locke has had to contend with a 15-point penalty and transfer restrictions this season but has not been immune to criticism of his management.
The rookie boss admits he has made mistakes in his first full season in charge but insists he has improved the young players under his charge.
He said: "Over the course of the season we have all made mistakes at some point.
"I can look back at some team selections that with hindsight I'd do differently now. But I'm not going to be the only manager sitting here saying that.
"But in the main we have tried our very best to put the strongest team available out on the pitch most weeks.
"I've said all along that our biggest problem would be that our young lads would take a dip. Unfortunately for us, they all took a dip at the same time. Without making excuses, we just genuinely did not have the players to come in and replace them.
"We had to keep playing them while doing our best to keep their confidence up. But if you look at those same players now, compared to the start of the season, they are all physically better and better footballers as well. So from that point of view I think we have done a good job."