Hearts edge closer to safety in club's battle to avoid liquidation
Creditors of Hearts' major shareholder have agreed to transfer its stake to administrators.
Last Updated: 07/04/14 6:52pm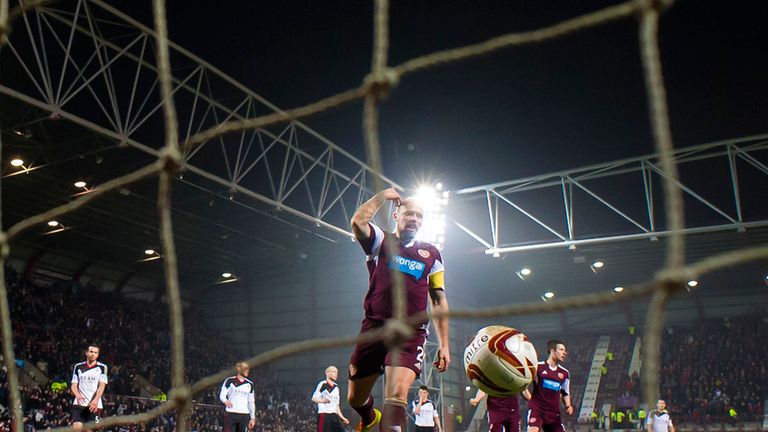 UBIG's 50% share will now pass to administrators BDO, who are attempting to oversee the sale of the club to a group of supporters bankrolled by Edinburgh businesswoman Ann Budge.
Talks between BDO and lawyers representing a second significant shareholder, Ukio Bankas, remain ongoing in Lithuania.
No agreement on the transfer of Ukio's 29% stake could be reached on Monday, but Sky sources understand positive talks are continuing and that BDO hope a deal can be done by early next week.
Ukio retain a charge over Hearts' Tynecastle stadium, and an agreement is necessary for the completion of Budge's planned takeover and a gradual handover to the Foundation of Hearts group.
Ukio and UBIG are both in administration themselves, and creditors of Ukio must approve the transfer of shares.
Foundation of Hearts initially suggested a formal creditors' meeting with Ukio could happen as early as Monday, but despite no meeting taking place the prospective new owners gave a positive reaction to the day's events.
Chairman Ian Murray said: "Obviously we are slightly frustrated we haven't got the final result but to get more than halfway there is a big step. Hopefully the fruitful discussions with Ukio Bankas will help its creditors back the deal.
"It's been the UBIG issue that has caused us most concern. So now that is away it's about making sure we get the Ukio Bankas deal done.
"Whilst we are disappointed we didn't get the final piece of the jigsaw done, we are confident we can complete the deal to take the club out of administration in the next couple of weeks.
"You can never say never but we have had the offer on the table for eight months and been preferred bidders since the start of August."
Failure to complete the deal would likely see Hearts' administrators begin liquidation proceedings, as there are currently only enough funds to keep the club operating until the end of April.
The positive news from UBIG came after reports emerged of a rival 11th-hour bid from Edinburgh businessman Pat Munro who has failed in several previous attempts to buy the club in recent years.
But a spokesman for the Ukio bankruptcy administrator, Gintaras Adomonis, said of the offer: "The form and content of it is beyond consideration - all financial proposals should be provided to BDO, the administrator of Heart of Midlothian."
The Foundation of Hearts, which has the financial backing of about 8,000 supporters, plans a gradual takeover by fans after Budge initially put up the £2.5m needed to rescue the club.
Hearts went into administration in June last year with debts of around £30m. They were deducted 15 points and hit with a transfer embargo and were relegated on Saturday despite a 4-2 win over Partick Thistle.