Scottish Premiership: Hearts slowly moving out of administration
Hearts are slowly moving out of administration after Lithuanian bank Ukio agreed to its sale of shares in the club.
Last Updated: 16/04/14 6:19pm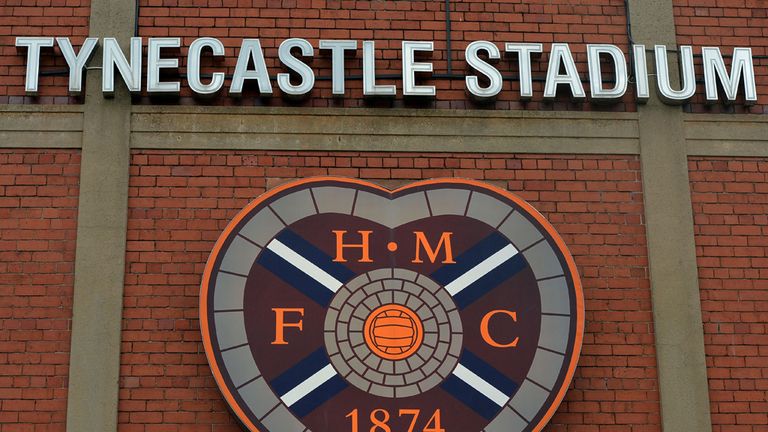 Lithuanian banking group Ukio Bankas have agreed to transfer its 29.5 per cent shareholding, as well as security over Tynecastle, to administrators BDO effectively ruling out the threat of liquidation.
This follows the news that another Lithuanian bank, UBIG, had agreed to hand over its 50 per cent share to BDO, who are now attempting to oversee the sale of the club to a group of supporters led by Edinburgh businesswoman Ann Budge, who is now in pole position to succeed former owner Vladimir Romanov.
A source close to the club said: "Like any of these processes there may still be a few creases to be ironed out but this is the club effectively safe from liquidation. If everything goes to plan, the club should formally exit administration sometime next month."
Speaking about the Ukio deal, Ian Murray of the Foundation of Hearts said: "This is great news. We are 90% there, pending the successful completion of a sale and purchase agreement."
And Vaidotas Vysniauskas, spokesman for Ukio's administrators, went on: "The creditors' committee have approved it and it is a final step from Ukio Bank, fortunately."
Ukio is said to have agreed on £2.5m for the shares and this latest news should help Hearts avoid the threat of liquidation, having been in administration since June 2013.
Millionaire former IT specialist Budge, 66, has fronted the cash for the company which looks set to take over the running of the club.
Budge will become executive chair of the club 'on a no-fee basis' before transferring ownership to fans' group the Foundation of Hearts within five years of gaining control.
"We are not across the line just yet but this is a very positive step and we are almost there," Budge told the club website.
"The fans have been magnificent throughout but I would urge them to keep backing the team in their numbers during the last few games to ensure we get to the end of the season.
"The end is now in sight and together I am confident we can achieve our target."
The Foundation's 8,000-plus membership has pledged to donate cash on a monthly basis that will be used to pay for the club's running costs before Budge is given back her £2.5m.
BDO spokesman Bryan Jackson was understandably delighted when he spoke to Sky Sports News saying: "Ukio have voted in favour of the transfer of the shares.
"It's significant in that one of the bigger obstacles - maybe the biggest - has been overcome and it's a great relief. But there are still one or two more to overcome but we are heading in the right direction.
"In our point of view it is a very positive day. We're not quite there yet, there is a 20-day cooling off period, but we should be over the line by the end of the month.
"The threat of liquidation has always been there and there have been countless sleepless nights, so I appreciate what Hearts fans have been going through but today has been a major step in the potential saving of the club."
Hearts, after being given a 15-point penalty at the start of the season for entering administration, can now look forward to life in the Championship in a much healthier position after being relegated from the Premiership earlier this month.