Hearts boss Gary Locke is delighted as Hearts are saved from liquidation
Hearts boss Gary Locke has revealed he was moved to tears when he heard the club had been saved from liquidation.
Last Updated: 18/04/14 10:32am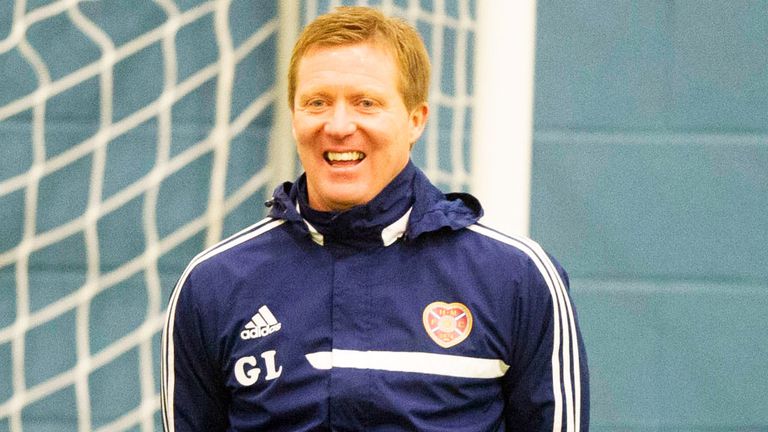 Locke has endured a troubled season as his team were relegated to the Championship, having failed to recover from a 15-point deduction after Hearts were placed in administration last June.
Hearts appeared certain to fold until their supporters mobilised in an attempt to save their club.
And after hearing administrator Bryan Jackson from BDO had reached an agreement with Lithuanian creditors on a Company Voluntary Arrangement, Locke claims it was one of the best days of his life.
Locke said: "I realise other managers have gone through similar experiences but this isn't just a job for me. Hearts are my club.
"So the thought of the club going out of business and my own kids growing up without a team to support was too horrible for me to imagine. It would have been a disaster.
"So when the news came through, at about quarter past nine, I must be honest - it brought a tear to my eye.
"I just sat there trying to take it all in. I thought about the supporters. I know a lot of them personally. I know the sacrifices they have made for Hearts. I know how they have stuck by the club in its darkest hour - the money they have spent and how much it means to them.
"And this call was the first bit of positive news any one of us had had in four or five years. I was just overcome to be honest. Delighted for each and every one of them."
As a result of their survival, Hearts can now make plans to honour former players who died after joining McCrae's Battalion to fight in the First World War, with 100th anniversary commemorations of the conflict taking place this year.
Locke said: "This last week has probably been the worst. Just speaking to Bryan I could tell he was genuinely concerned about what was going on in Lithuania.
"You have to realise the history of Hearts and how much it means to people, going all the way back to the McRae's Battalion.
"The worry was we could lose all of that history. Liquidation was a reality, there was no doubt about that. You just need to look at what happened to Rangers. If it could happen to a club of that size then it could have happened to Hearts."
Former Scottish giants Rangers were placed in liquidation by HMRC in June 2012 after the club failed in attempts to get a CVA.
A consortium fronted by businessman Charles Green purchased Ibrox Stadium, Murray Park and the Albion Car Park before launching a new club which has since won successive promotions since entering the fourth tier of Scottish football.