Hearts boss Gary Locke thanks staff for recent run of Scottish Premiership form
Hearts boss Gary Locke believes the Jambos' act of faith in appointing a club chaplain is behind his side's recent form.
Last Updated: 01/05/14 3:27pm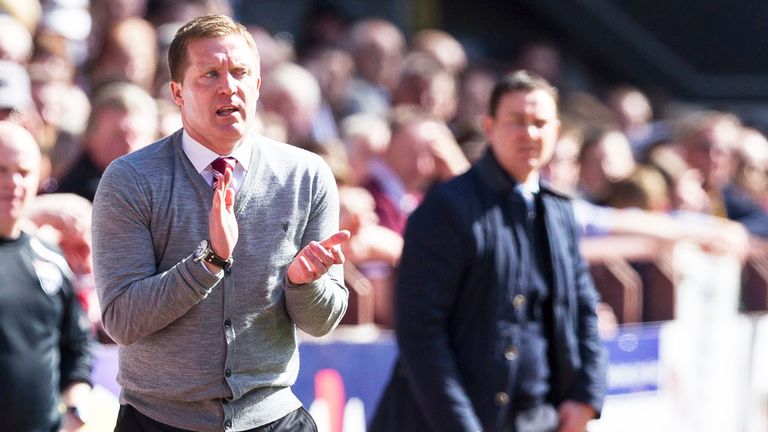 The relegation-bound Gorgie outfit may be heading for the Championship but there is a mood of optimism running round Tynecastle.
A deal to take the Edinburgh side out of administration should be completed within weeks while Sunday's 2-1 win over city rivals Hibernian was their fourth derby success from five clashes this season.
And Locke revealed the positive vibes that have followed a five-match unbeaten run have been boosted by the assistance of Reverend Andy Prime.
The Edinburgh minister joins the Jambos once a week at their Riccarton training base to offer emotional support and a sounding-board for frustrated first-team figures.
Locke said: "It's been a right team effort and we are all delighted that there has been such an improvement.
"But it's not just happened on the pitch. The young boys have all grown up in terms of dealing with things off the park. They have improved as people too.
"That's credit to all the backroom staff like Billy Brown, Alan Combe, Dave Sykes, Robbie Neilson and even guys like our chaplain Andy Prime, who has played a huge role.
"Andy has been great. We know him round here as Charlie - Charlie Chaplain. He comes in most Thursdays and is good to have about the place.
"He speaks to the players about anything they need to get off their chests. Whether it's giving me stick or anything else.
"It wasn't something I brought in, he's been here for a couple of years now. But we had something similar when I was at Killie and I felt it was fantastic.
"Players always have wee issues they don't want to discuss with the manager so Charlie does his thing on a Thursday and it gives the players a chance to sound off about anything bothering them.
"There might not be a problem but he will have a chat with them anyway. You sometimes need someone to deal with those emotional issues. I don't ask him about what they talk about though - that's between them.
"Have I used him? I've used him all season. I just see him as part of my backroom team. He's a fantastic person and a big help to us all."