Scottish Premiership: Ann Budge completes Hearts takeover
Ann Budge has completed her protracted takeover of Hearts, the supporters group Foundation of Hearts has confirmed.
Last Updated: 09/05/14 4:13pm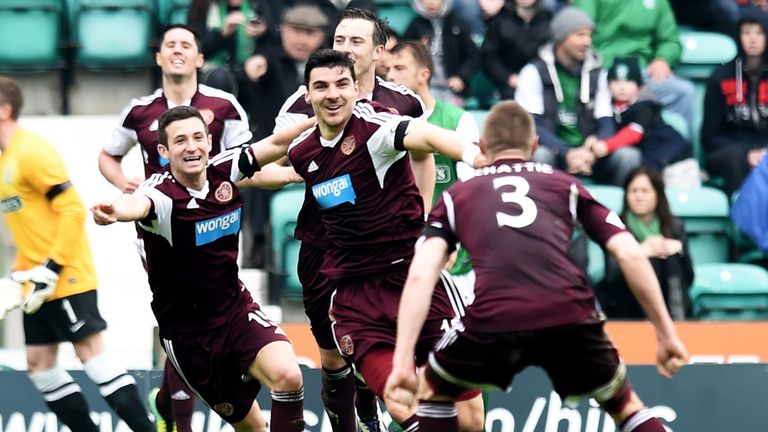 The Edinburgh businesswoman had been working on a sale and purchase agreement for her £2.5m deal, which takes the club out of administration.
The Foundation, which will gradually buy the club from Budge within five years, wrote on its Twitter account: "Four historic words for all Hearts supporters 'deal done, thank you'."
Hearts have been relegated this season - being stymied in their quest to overcome a 15-point deduction imposed in light of their financial strife - and will play in the Scottish Championship next term.
Manager Gary Locke, whose contract expires in the summer, has overseen a run of only one defeat in seven games and this week called for his future to be clarified.
The club's administrators BDO later issued a statement proclaiming their delight at the conclusion of the deal with Budge.
Joint administrator Bryan Jackson said: "BDO will continue behind the scenes for a few more weeks and it is planned will exit from office before the start of the 2014/2015 football season with Hearts being managed by the new board of directors for the remaining duration of the administration.
"This is a great day for Ann, for the club, and for the fans who have stood by their team throughout a difficult year.
"There is no question that this has been a tough period for all involved but, to their credit, the players, management and fans have remained steadfastly committed and loyal during a time which would have tested even the most ardent of supporters.
"I am very pleased for all involved that we have had a positive outcome to this administration. There have been times over the last year when it was not clear that we would get this result.
"There remain many challenges ahead for the club but it is clear that all involved remain resilient and determined to secure and maintain the great name of Heart of Midlothian for decades to come."