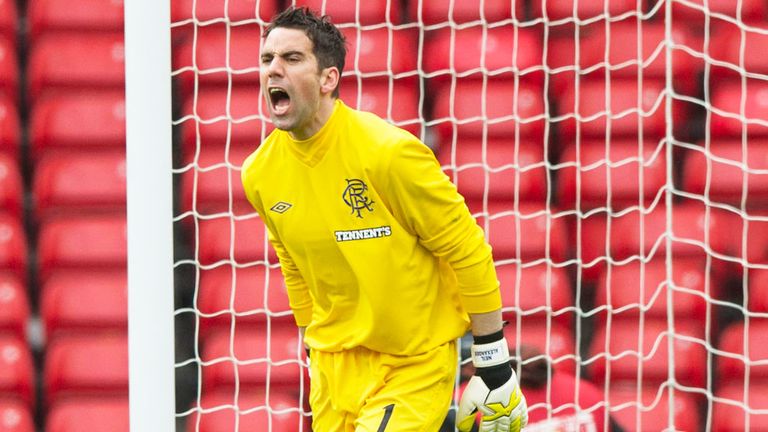 Neil Alexander claims Hearts head coach Robbie Neilson and director of football Craig Levein were instrumental in him joining the club as goalkeeper and goalkeeping coach.
The former Rangers man left Premier League side Crystal Palace following the expiry of his contract at the end of last season to join the club he supported as a boy.
The 36-year-old revealed the opportunity to get his foot on the coaching ladder was too good for him to resist, although he insists he still has a lot to offer on the field.
"Robbie Neilson and Craig Levein spoke to me over the summer and they just sold me," Alexander told Sky Sports News.
"They were very passionate and enthusiastic about what they wanted to do here at Hearts and I was a boyhood Hearts fan growing up.
"The chance to come to the club I supported as a boy was just one I could not turn down and the chance to get my foot in the door of the coaching side of things was something I was looking to for the future.
"I still feel I've got a couple of good years in me left to play but to do the coaching Monday to Friday as well was an opportunity I felt I couldn't turn down.
"It's going to be tough because obviously I've got to get myself right if I want to be selected on a Saturday but it's a great challenge for me to deal with the things that happen off the pitch."
The fixtures will see Alexander pitted against his former club Rangers on the opening day of the season and he believes the Ibrox side will provide stern competition over the course of the campaign.
"We were going to have to play them eventually but to play them in the opening game at Ibrox is going to be special for me," he said. "It's going to be a tough game don't get me wrong but for me it's going to be that little bit special.
"I think Rangers are going to be very strong this year. Obviously they've made a couple of very good signings in Kenny (Miller) and (Kris) Boyd - they're going to be scoring a lot of goals this year but hopefully we'll be up there as well.
"I think Hibs are going to be strong as well so the three of us are going to be in the mix but I'm not going to rule out any of the other teams. It's going to be a tough league this year with some really difficult games."